A MAP OF BINGHAM FOR 1586 (11)
Size of holdings and strips
East Field
North Field
West Field
South field
85% of open field holdings contained only one strip (or land) and 11% had two. Those with more than one strip were generally interspersed seemingly randomly between the single strip holdings. Holdings with more than three or four strips tended to be domain. A constant average area per strip irrespective of the number of strips in a holding would imply that the size of holding was directly proportional to the number of strips it comprised. E.g. if a single strip holding was 0.3 acres, then a two strip holding would be 0.66 acres etc.
East Field
Table 1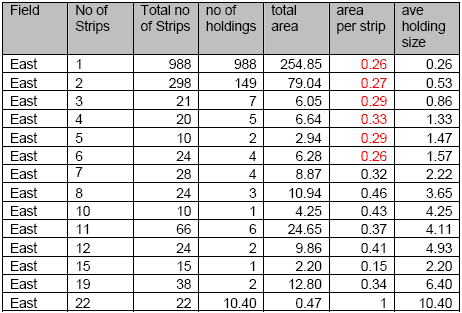 Table 1 shows the average area of strips by size of holding for East field. It appears to demonstrate that the average areas of strips change little with number of strips in a holding (certainly up to 6), thus suggesting that the norm was for the size of a holding to be the product of the number of strips. However, this conclusion is difficult to sustain when individual furlongs and holdings are examined.
Table 2 shows the results for each furlong, when there is much more variation in the relationship between sizes of holding and number of strips. Only in eight holdings (in red) are the areas of single and two strip holdings within 10% of each other.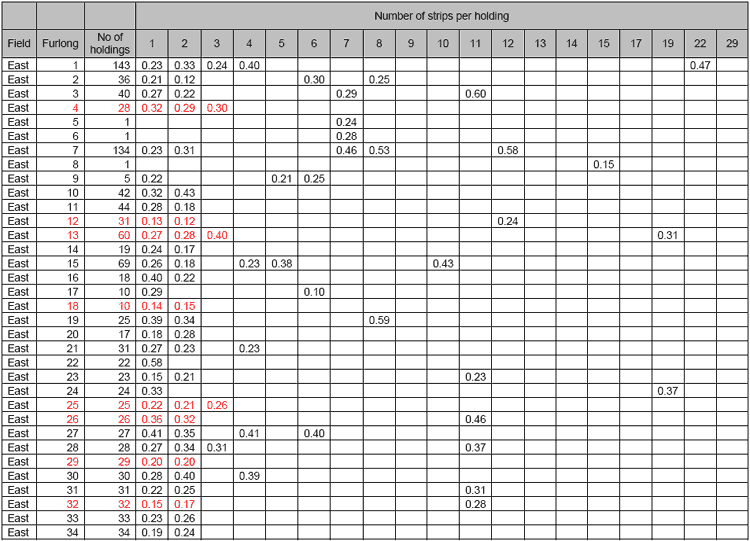 The conclusion must be that any apparent relationship between number of strips and size of holding is accidental and not part of any subtle
management plan. If we discount holdings with more than two strips on the grounds of sample size, comparison of the columns for one and two strip holdings for furlongs where both occur (in this case 27 furlongs out of 34) tends to demonstrate this fairly strongly. Graph 1, showing percentage difference (column 2/column 1) shows that in 50% of the furlongs averages for single strip holdings are lower and in the other 50% are higher than those for two-strip holdings. A zero score would show where averages were exactly the same for one and two strip holdings.
The results for all four fields taken together show only 25 furlongs of the total of 117 (23%) having any tendency (a less than 10% difference) towards having the same average areas for single and two-strip holdings.
North Field
Similar results apply for North field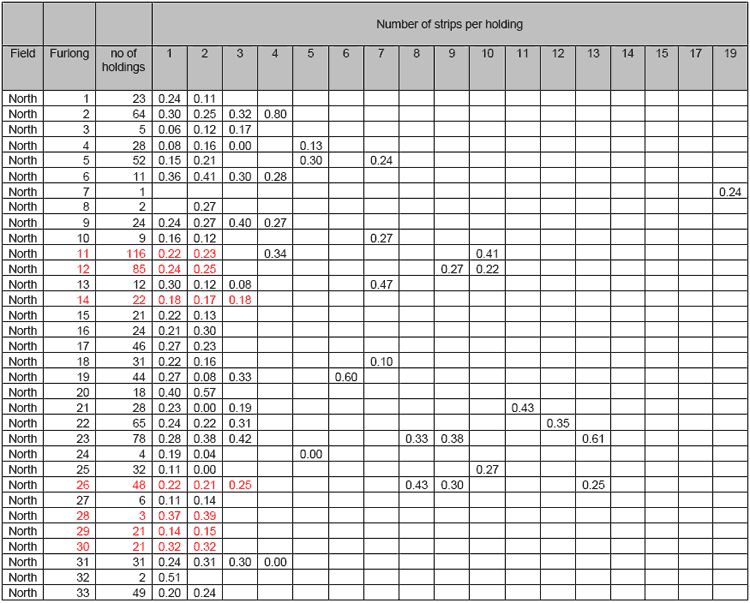 West Field

South Field