HISTORY OF BINGHAM
VICTORIAN BINGHAM
The 19th century was a time of enormous change nationwide and Bingham did not escape it. The time of rural self-sufficiency that had characterised the town for centuries ended. Despite an increase in population, which nearly doubled from 1,089 to 1,950 between 1801 and 1841 the economy of Bingham did not appear to be strong in the first few decades of the century. Bingham's trade appeared to be stagnating. In 1832 White's Directory described Bingham as being 'merely a straggling and inconsiderable market town ... its market place is large and open but is disgraced by some mean looking shops which are seldom occupied, but it has in its centre a very convenient buttercross' (a predecessor of the present one dated 1860). The market was described as 'only of trifling importance'.
Indeed Curtis neatly described its plight in 1843-4: 'Bingham is rather unfortunately situated and circumstanced; it lies in a rich agricultural district, at about an equal distance from the superior markets of Nottingham and Newark, with a population too small to command any material consumption, and too remote from the Trent or any great road to form a depot for the distant conveyance of its superabundance'. Although this situation was partly alleviated by the coming of the railway in 1850 it was still overshadowed by the nearby towns, and the market finally disappeared in the 1890s.
In the middle decades of the century agriculture was in flux. Mechanisation, cold winters, wet summers, poor quality stock and imported grain from the colonies all had an impact on the economics of farming in the Vale of Belvoir. Jobs were lost and after the peak of 2054 inhabitants recorded in the 1851 census the population of Bingham declined to a low of 1,427 in 1891 as families migrated to Nottingham and other cities in the search for work.
Land use in1841
Unlike 1586 and 1776, when surveys were carried out only of the land owned by the lord of the manor, the tithe map and apportionment of 1840/41 covered the whole parish. The information here, taken in conjunction with the 1841 census, provides the most detailed description of Bingham for any time in the 19th century.
For fuller details of life in Bingham in 1841 go to Tithe Map in old maps section of History of Settlement.
In 1776 there had been three farmhouses out in the countryside. Now there were six, each with a contiguous set of fields ranging from 31 acres to Mr Hutchinson's farm at Starnhill, which was 259 acres. Several big farm homsteads were still in the town centre. As in 1776 many of the tenants had fields dispersed all over the parish. Even small holders with as little as 12 acres had fields as much as a mile apart. This tended to reflect the use of the northern fields as meadow or pasture and southern fields as arable. Also, as in 1776, a number of small fields along the south western boundary of the parish were rented by people who lived in Cropwell Butler.
Comparison of the size of farm holdings since 1586 provides an interesting commentary on social change resulting from the two processes of enclosure and urbanisation. The total number of holdings over 25 acres changed little (28 in 1586 and 1776, 26 in 1841). This means that with the amount of land available for farming more or less constant, the increasing population of small farmers and cottagers had a decreasing amount of land per family. The number of farmers with over 100 acres increased after enclosure (the 1776 figure) and remained almost the same in 1841, by which time over half the land in the parish was occupied by just ten individuals.
The division of the land between arable, pasture and meadow appears to be 65:20:15, which is similar to the ratio in 1586. In part this reflects the unchanging dependence of farmers on horse power, but also shows that arable farming was more important in Bingham than dairy or sheep.
By 1841 orchards were an important part of the Bingham economy. Victoria plums, damsons and cherries were grown. Nineteen orchards are listed in the tithe documents, with a total of 16 acres.
The town
As Bingham's population increased in the first part of the century housing expanded correspondingly. The number of dwellings in Bingham had risen from an estimated 115 for 1776 to the 384 listed as occupied in the census of 1841. Development was still tied into the medieval grid pattern of streets, but two new ones had been laid out. These were Union Street and Needham Street, developed by a consortium of local tradesmen led by a prominent citizen, George Baxter, between 1807 and 1810 with some 40 small terraced cottages and shops. These houses, unlike all the older properties in Bingham, had no gardens. The tithe map of 1841 shows an eight-acre parcel of land rented by Reverend Robert Lowe and divided into 60 garden pieces possibly let by him to poor people without gardens. The Earl of Chesterfield also had two large plots of allotments for rent.
Elsewhere infilling took place in the area of Market Place, Market Street and Newgate Street, mostly with small developments of four to five houses built in 'yards' running at right angles behind the buildings on the street frontages. Examples are Lomax's Yard (east side of Market Street), Chapel Yard (at corner of Newgate Street and Moor Lane , Newton's Yard (south side of Market Place), and Stokes' Yard of c 1823 (south east end of Long Acre), most named after their owners or developers. Some former yards still survive today, for example on the north side of Church Street and Temperance Hall Yard off Long Acre.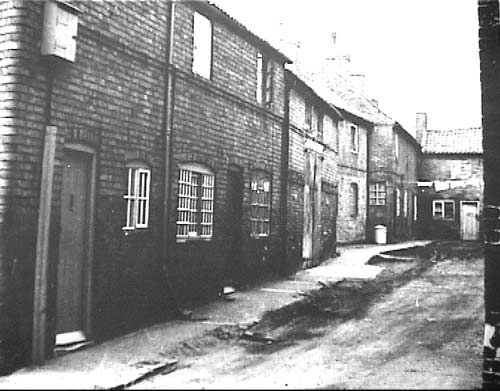 Chapel Yard cottages, on the corner of Newgate Street and Moor Lane, are an example of some of the poor quality old housing in Bingham demolished in the 1960s. Permission to use this photograph is given by Cliff Harding.
Two more ambitious developments took place on the fringes of the town centre. They appear to have been all speculative developments by freeholders to provide densely packed but nevertheless cheap housing for the poor, in some cases combined with garden allotments. They were: Skinner's Buildings on Nottingham Road and later known as Long Acre Row. The 14 tenements were owned by local farmer George Skinner, senior. Wright's Buildings to the west of Skinner's Buildings on Nottingham Road, consisting of12 tenement houses were owned by local farmer John Wright.
The 1841 census reveals that 55 people lived in the 11 occupied houses in Wright's Buildings and 63 in 13 occupied houses in Skinner's Buildings. Conditions in these houses would have been dire. Measurements taken directly off the tithe map show ground floor areas of the houses of 266 sq ft for Skinner's Buildings and 284 sq ft for Wrights Buildings. There were blocks of outside privies, a shared water pump and a well nearby.
In the 1840s efforts were made to improve the appearance of the Market Place in line with contemporary civic improvements in larger towns. The opportunity was taken to remove two rows of permanent market stalls and butchers' 'shambles' from its north side, which White's directory of 1832 had described as 'mean-looking shops that are seldom occupied'. By 1851 local historian Andrew Esdaile was able to report 'the clearing out … of a number of small shops [of] hucksters, ropemakers, butchers and glove-makers'. This enabled the building line to be tidied up and Station Street to be laid out leading directly to the new railway station. The scheme was completed in 1860 with the erection of the handsome new gothic Butter Cross at the end of the Station Street axis. It replaced an earlier cross standing further to the west, which had become dilapidated.
A number of public buildings were erected in the period 1841-1881. The Church School (now Church House) in 1845-6, the Wesleyan School (now a private house in Kirkhill) in c 1850, and the Police Station and Lock-up (now the Old Court House) in 1852. The two railway stations on the Grantham and the Melton lines with their associated structures date from 1851 and 1879 respectively. The Temperance Chapel in a yard off Long Acre was rebuilt in 1882.
The Poor Law Amendment Act, which introduced workhouses for groups of parishes had been passed in 1834 in the face of mounting poverty. Amongst the leading protagonists for change were the Rev Robert Lowe of Bingham and his cousin the Rev J T Becher of Southwell. Bingham's new 200-bed 'Union' workhouse was opened in 1837 to serve the town and 40 surrounding villages, although in 1841 it had only 54 inmates.
Bingham Union Workhouse prior to 1914. It was situated on Nottingham Road where the Gough Cooper estate now is. The picture was published as a postcard by G. Nicholson, Bingham. Used by permission of Hugh Holbrook.
People and trade
A large number of shops and traders served the needs of the town throughout the 19th century, and although they were mostly family-owned businesses, they probably provided as wide a range of goods and services, in relative terms, as the town can boast today. White's directory of 1853, besides listing farmers and market gardeners, gives 6 inns and taverns, 3 beerhouses, 16 shopkeepers, 7 tailors, 8 wheelwrights, 3 tin men, a watch and clock maker, 3 carriers, 5 joiners, 3 plumbers and glaziers, 3 hairdressers, 8 framework knitters, 2 druggists, 7 dressmakers, 7 bricklayers, 5 blacksmiths, 5 butchers, 2 coopers, 5 drapers, 9 boot and shoe makers, 8 academics, 8 bakers, 1 confectioner, 2 cattle dealers, 1 curate, 1 fishmonger, 1 nail maker, 2 painters, 1 coal dealer, 1 chimney sweep and also a station master.
The Gas Works in Moor Lane was established in 1854 and the steam-powered flour mill was opened in Station Street in 1861. When the second railway line was opened in 1879 another stationmaster was added.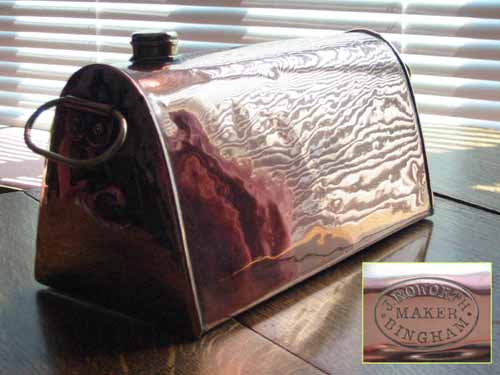 During the nineteenth century many craftsmen lived and worked in Bingham, among them tinsmiths, such as J. Roworth of Market Street and Browns of Market Place. They would have made, sold and repaired any household item in tin plate or copper. This is a copper warming bottle made by John Roworth between 1879 and 1896. Robert Roworth, tin man and brazier, first appears in Kelly's Directory in 1844. It is presumed that John Roworth is his son. In the later directory entries John Roworth is listed as selling china as well as being a tinsmith and brazier.
Photo: Robin Aldworth
This advertisement for J.W. Wright, Miller and Coal Merchant, is undated but possibly is from before 1908. Bingham had threewindmills until the 1870s. One, Hemstock's mill was at the corner of Mill Hill Road and Tithby Road; there were two just off what is now School Lane. Bingham's steam mill, at the bottom of Station Street by the station, is first mentioned in the trade directory for 1864. From 1869 it was owned by John Wilkinson Wright. His son John Warrener Wright had it from 1896 to 1908. It has since been demolished, but some of the ancillary buildings are left and have been converted to business units and offices.
Photo: by permission of Maureen Gladwin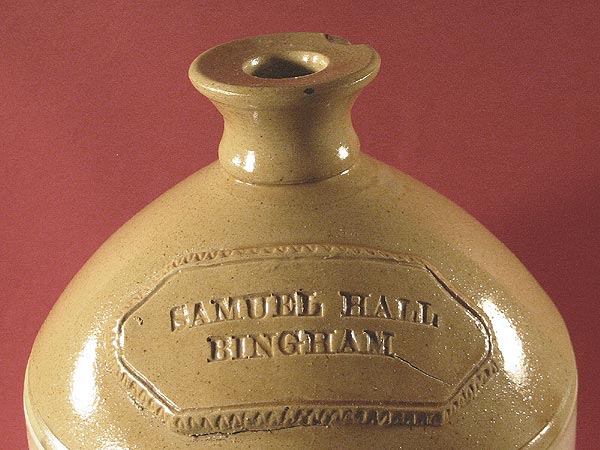 A typical example of a late Victorian two-tone stoneware wine bottle, probably made at the Denby pottery in Derbyshire and customized with a slab-seal bearing the name of the purchaser, Samuel Hall of Bingham, a wine and spirit merchants from 1869 to 1881. The censuses record that he had live-in staff suggesting that he ran a hotel in Long Acre, probably The Vaults.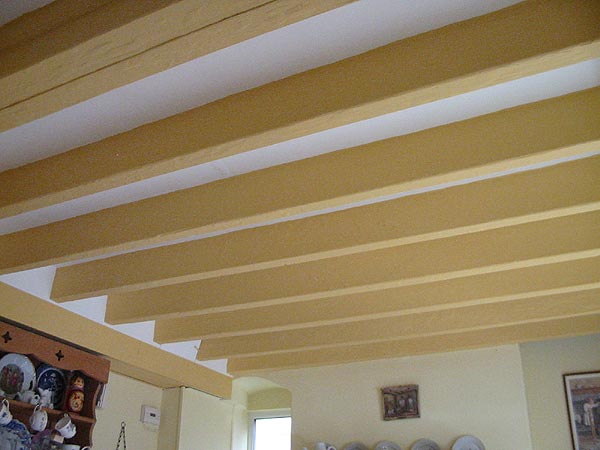 Framework knitters often had their workshops on the first floor of their house. You can find evidence of this in houses where the beams in the ceiling of ground floor rooms are thicker than usual and closely spaced for extra strength. In this house the beams are 9 inches apart. A framework knitter was listed in this house in the 1851 census, but not in 1841. The house was built in 1820s, but the workshop was added later.
Over 50 Bingham families worked as framework knitters or lace workers up the mid nineteenth century. Characteristically the workshop was on the first floor and it had wide windows for maximum light. Most buildings in Bingham that were used for this purpose now have modern windows, but in this one (No 4 Long Acre) changes in the brickwork (within the area marked in red) show the extent of the original window.
Photo: Robin Aldworth
Later sources show that there was as much change in the make-up of commercial Bingham then as now. New tradesman came; old ones left. Taken together these sources also give information about trends. In 1844 the town possessed 58 frames for stocking knitting and 22 workshops. By 1853 there were only 8 framework knitters. There were other changes in the number of farm labourers, servants and so on, which are described in the book Victorian Bingham- a Cameo of life in a Small Nottinghamshire Town 1837-1901 edited by Valerie Henstock and published by Bingham & District Local History Society.
Aspects of life in the 1870s
The period 1861 to 1881 was significant in Bingham's history. During this time the population fell from 1917 in 1861 to 1673 in 1881. This was the period of Gladstone's first, vigorously reforming government (1868 to 1874). Robert Miles was the Rector at St Mary and All Saints throughout this time and in 1869 he started the first parish magazine. The magazine came out monthly. Copies of the early issues are hard to find, but complete sets for 1869, 1870, 1873 and 1874 exist and it is possible to get a glimpse of life at that time from them.
Besides this source, the logbooks for both the Wesleyan and Church of England schools still exist for this period. The Wesleyan logbook, when Mr Thomas Jones was the schoolmaster, is particularly full and interesting, providing a view on Bingham through the eyes of a teacher.
Then there are the memoirs of the sisters Frances Adelaide and Beatrice Alice Smyth, daughters of the local doctor, who lived at 7 Church Street (Link to this address in House Histories) in Bingham until 1871. They were written many years after that and copies were given to a previous owner.
Pages have been made up from each of these sources and can be read by clicking on the titles below:
Bingham as seen through the parish magazines
Through a teacher's eyes
The Smyth family 1812 - 1912
An unusual feature in the first parish magazines is the weather reports, which appear every month. In the later issues they were signed off with the initials JG. There is no indication who this person might have been, but one of the four church sidesmen was called Mr J. Godfrey. To see a comparison of the weather then and now click on:
Bingham's weather
The history of the railways can be found by going to Bingham's Railways.