7 Church Street
Summary
White Lodge is a Grade II listed three storey Georgian style house (although the windows are a bit 'squat' and not in Georgian proportions) fronting directly onto Church Street. To the rear are older buildings, including a former malt house, some beams of which possibly date to around 1650. The side door in the east wall with the marks of a porch roof was the entrance to the surgery waiting room. The unusual first floor window on the west wall is said to have been installed when the wife of one of the doctors contracted tuberculosis. The window is designed to open upwards; this and the side panels would prevent rain entering whilst admitting as much fresh air as possible to the bedroom. The outside telephone bell on the west wall is a reminder of the days when someone always had to be within earshot of the doctor's telephone! The kitchen used to be served by a water pump to a well in the yard and a stone trap door in the rear hallway by the kitchen covers a soft water cistern. This part of the hallway has a glazed ceiling and may originally have been an open passageway. Thus the cistern may once have been outside the house – probably a more usual arrangement. The mud and brick west garden wall is seventeenth century or older and is reputed to be the oldest structure in Bingham, except for the church! Internally the house was brought up to modern standards in 2003, continuing a tradition of improvements over the centuries.

The deeds for the property include references as far back as 1683. The 'Georgian' house we see today was built on the site of an older house sometime between 1825 and 1847 by William Pilgrim, the licensee of the Chesterfield Arms, opposite. He never occupied it but he did own and live for a time at number 9, the cottage at the north end of the yard on the east side of White Lodge. He may have brewed ale in the malt house mentioned in the deeds. He let, and his executors later sold, the house to Luke Dowell Smyth, a doctor, who had his surgery here. The Smyth family owned the house through to the early 20th century although latterly let it to their doctor successors. Indeed since the 1840s the house has always been and still is occupied by medical families! From 1852 to 2000 White Lodge was owned by only three families, but eight general practitioners lived and worked here during that time; the remaining five rented the house from a predecessor.

Review of Deeds, Census and Directory Information

The earliest date mentioned in the deeds papers is somewhat confusing as it refers to the 'two and thirtieth year of Charles the second', but he reigned for only 25 years! Closer inspection seems to allow an interpretation of 23rd year – 1683. It is recorded that Bryan Richmond, his wife and son Bryan Richmond had 'leased and released' the land on 4th March in that year to Thomas Cooke for £25-6-8d. Richmond seems to have stayed on as tenant – probably indicating a loan rather than a sale.

On 16 February 1692 Thomas Cooke of Whatton, gentleman, sold (or more probably assigned the loan for):
All that messuage cottage and tenement in Bingham being in possession of Bryan Richardson, land arable and grazing lying in Bingham, half an ox grazing of land. (Presumably a rough measure of area)
to William Shelton of Laughton (sic - probably Langar), Notts. John Wright and Mary Musson (a surname mentioned in the manorial survey of 1586) witnessed the lease of 16 February1692. Intriguingly, the Release completing the transfer from the original owner Richmond to Shelton was not signed until 21 February 1692; normally it would have been the following day. In this second document Shelton is described as a carpenter of Langar (not Laughton). The price was £55 and the boundaries of the property described as:

Bounded to south by Church Gate [i.e. Church Street]
North by land in tenure of Henry Thomas

William Shelton died in 1697 and his will (on extremely fragile parchment) is with the deeds. It read:
By the Grace of God Amen this seven and twentieth day of October 1694 I William Shelton of Langar being weak in the body but of sound and disposing mind and memory praised to be God do make and ordain and constitute this my last will and testament in the form following revoking all other wills
First and chiefly thanks God
Worldly goods to my deare and loving wife Elizabeth Shelton all my messuage and tenement in Bingham for life
And after her decease to my son John Shelton and his heirs.
Also direct sufficient moneys for subsistence of three other children and maintaining aged father if still alive and 5/- to Rose Wilton.
Probate was granted 17 October 1697, presumably the year of death. The wording 'of Langar' suggests Shelton never lived in the Bingham property but leased it to others – maybe even to the Richmonds.

The property stayed in the possession of the Shelton family for many years and on 14 August 1807 George Shelton, maltster, transferred the property to his nephew George Baxter, grocer (already of Church Street), in exchange for an annuity of £40 payable from a bond taken out by Baxter. Baxter seems to have had a colourful history including a lengthy series of legal disputes with the Rector. The description is now:
All that messuage dwelling house with malt house workshop stable yard garden and orchard
The reference to malt house and to George Shelton being a maltster suggests he lived on the premises. The outbuilding that was the malthouse has a beam allegedly dating to 1695, so George Shelton may not have been the first maltster here. The transaction was witnessed by John Strong and John Horsepool. Strong was the post master in Church Street and was one of Baxter's consortium for the development of Market Street. There were many Horsepools in Bingham at this time. The deeds for 19 Church Street show that Baxter occupied what is now 15 Church Street from 1795 and purchased it in 1811. That property included a bakehouse; he is listed in directories for 1829 and 1832 as a grocer, tea dealer, draper and stamp distributor of Church Street.

At this time Baxter was probably quite well off. But in 1810 the mortgage on the Market Street development was called in and the consortium including Baxter had to borrow £500 to repay it. Baxter seems to have been short of money from then onwards, as on 24 July 1817 an indenture between George Baxter and Jane Wylde of Southwell, spinster records that "George Baxter has occasion to borrow £500 and had applied to and prevailed upon Jayne Wylde to advance and lend same, at 5% interest", on security of property described as:
All that messuage with malt house [White Lodge] and all that dwelling house lately occupied as a workshop (number 9 or 11?) all in occupation of George Baxter.
On 10 June 1819 Jane Wylde assigned the loan to Rev John Hall Clay of Calverton and William Barratt gentleman of Southwell. This was for the full principal of £500, so none had been paid off so far. Clay died in 1823 and the mortgage transferred to Wylde and Bolger, bankers of Southwell. In Pigot's 1822 directory George Baxter is described as an agent of the Southwell bank.

By 1823 Baxter was in serious financial difficulties and indeed became bankrupt. His bankers (Bolger) and chief creditor (Swann) became administrators. On 30th October 1823 Bolger and Swann signed articles of agreement whereby they contracted to sell the two cottages to William Pilgrim for sum of £615:
All those two freehold messuages and dwelling houses with coalhouse dunghill place and outbuildings in Church Street occupied by John Greenwood [listed in Pigot's 1822 directory as a blacksmith of Church Street] and (?) Cheetham. And also garden and orchard together with yard stable dovecote pigsty and other outbuildings [it would have been common practice to have pigs rooting in an orchard]

The final agreement, running to five parchment pages, to cover all his creditors, was not drawn up until 4th and 6th March 1825. There were 8 parties to the indentures of lease and release wherein Bolger and Swan, as administrators, agreed the sale to William Pilgrim of the dwellings previously owned by Baxter with other buildings etc as detailed below:
All that messuage with the malt house barn stable yard garden and orchard situated in Bingham (White Lodge)
All that dwelling house or tenement (lately occupied as a workshop) as before mentioned and situated in the yard belonging to the said messuage which premises have been formally in occupation of said George Baxter and were more accurately described according to their present state and particulars thereof, that was to say
All those two freehold messuages or dwelling houses [numbers 9 and 11?] with the coach house dwelling place and outbuildings thereto adjoining and belonging situated in or near Church Street in Bingham and in the respective occupations of John Greenwood and [no forename] Cheetham.

Also all those two malt houses and offices situated in or near Church Street in Bingham and then in the occupation of William Whitworth and John Welch

And also that orchard and garden together with yard stable dovecote and pigstye and outbuildings adjoining situated in Church Street and then in occupation of George Baxter.
Whitworth kept the Kings Arms (now the Crown) on the Market Place and so would have had a good use for the malt houses, although one would assume that as landlord of the Chesterfield Arms opposite William Pilgrim would previously have had his own use for them! John Welch was a plumber and glazier living in Long Acre, in partnership with his brother-in-law William Bass. Maybe they rented storage here. We do not know if these were additional malthouses or a reference back to that attached to White Lodge.
The description accords with the present layout of White Lodge and the adjacent terrace of cottages to the east across the yard. Later documents confirm that all these were in the same ownership for a while. Various buildings seem to have been let by the administrators. The malt houses are represented today by the outbuildings at the north end of the property, and in which some very old beams are to be found, at least one of which has allegedly been dated to around 1650.
The deed bundle also contains a sworn statement dated 15 November 1827 by John Strong schoolmaster (as well as postmaster) of Bingham, confirming Baxter's ownership.
John Strong maketh this oath and saith that he was present and did see George Shelton, of Bingham, maltster (since deceased) seal and deliver a certain deed of enfeoffment dated 14 August 1807 and made between George Shelton and George Baxter, grocer of Bingham and nephew of the late George Shelton and William Green of Newark, gentleman, [presumably his lawyer] on behalf of G Baxter.

And that the said George Shelton did deliver unto George Baxter full and peaceable possession of the messuage house or tenement mentioned. Evidenced that John Strong and John Horsepool had endorsed the back of the deed,
Sworn at Bingham 15 November 1827 before [unreadable signature]
Quite what was the purpose of this statement at this time is not clear since no other documents bear a similar date, unless Pilgrim needed it to help prove title for some reason - perhaps the original documents were not available.

The trade directory of 1832 lists William Holroyd Smith as a surgeon living and practising in Church Street. Although there is no evidence it is tempting to suppose he was the first of a long line of medical men to occupy these premises.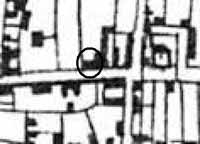 In the early nineteenth century plans were not usually attached to title documents, so the earliest graphical representations we have for White Lodge are from Sanderson's Nottinghamshire map of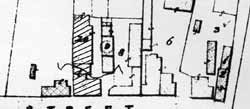 1835 and the Bingham tithe award map of 1841. White Lodge is shown circled on the 1835 map and hatched on the 1841. Note the rear outbuildings appear to have come after 1835. We can recognise the 1841 configuration as very close to today's layout. The small scale of Sanderson's map makes it difficult to identify the spaces between buildings and to deduce whether much had changed in the intervening six years.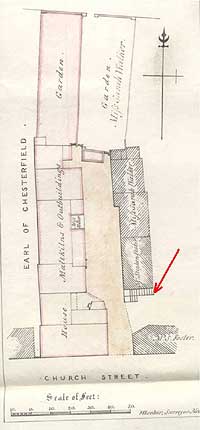 Bingham Local History Society was able to match some 1841 census information to the parcel numbers of the 1841 tithe map. These suggested that a Thomas Widdowson aged 50, a joiner occupied the building (cross hatched), in what is now the west garden of White Lodge. This seems not to have been there in 1835 and is not there now. Betsy Baxter, now aged 70, (George's widow) was back at the shop he started out with in 1795 (the present number 15) and is described a grocer.

We know from his will that Pilgrim lived in the cottage now number 9 – he left this to his niece. He:
gave and devised all that dwelling house wherein he then resided situated and being in Bingham aforesaid with garden orchard and premises then occupied therewith unto his niece Sarah Walker during the term of her natural life
The trustees were to sell all his other properties 'as soon as is convenient'. He also set up trusts to include this property on her demise for the benefit of other nieces and nephews along with remainders of estate, messuages (freehold copyhold and leasehold). Also household goods and furniture, stock in trade, plate, linen, books, book debts, money ands securities for money, farming stock and other personal effects were to be disposed of as soon as convenient. The proceeds were to be used to pay funeral expenses, just debts and to pay 'unto my sister Sarah Green, of Aslockton, widow, £400 in consideration of her being my housekeeper'. The remainder was divided equally between nieces and nephews (except Sarah Walker).


He appointed as trustees for the nephews and nieces John Foster, farmer of Saxondale and Richard Brewster farmer of Bingham. The document was witnessed by John Bailey and William Huckerby Jnr; the latter was a lawyer and Superintendent Registrar. His name appears in one capacity or another on many deeds we have seen.
Pilgrim died on 30 August 1847 and on the 6th July 1852, Mssrs Foster Brewster and Foster, executors for William Pilgrim, sold White Lodge to Luke Dowel Smyth MD for £450, with John Pilgrim making a mark not a signature. The property is delineated in a plan drawn in the margin of the indenture of sale of 6th July 1852. The building (now number 13 Church Street) with outside steps and arrowed was probably the barn used as a theatre operated in 1785 by an amateur group and referred to in Miss Wortley's History of Bingham (page 33). The property is described thus:
"All that messuage or dwelling house with the coach house stable and other outbuildings gardens at the back thereof fronting onto and adjoining Church Street heretofore in the occupation of Richard Hubbard. but now and for some time past in the occupation of Luke Dowell Smyth and also malt kiln and offices heretofore occupied as two situate in or near Church Street being near said messuage heretofore in the occupation of William Whitworth and John Welch and now unoccupied together with the rights easements and appurtenances granted to Luke Dowell Smith".

In the census of 1841 Richard Hubbard was aged 50, of independent means and living in Church Street with two female servants. We have found no other references to him, although he may have been related to John Hubbard, also aged 50, a tailor for many years in Fisher Lane.
In the 1841 census Smyth was listed as a surgeon (aged 29 and unmarried) living in Union Street. Luke was listed in directories as a doctor in Church Street as early as 1844 and so must have rented White Lodge from Pilgrim. In the 1851 census Luke was living in Church Street with his wife and two small children. The 1851 census also shows the family to have had a groom living in. The old stable and coach house are still present; the doctor would have needed a pony and trap to visit patients further afield than Bingham. The surgery window was a lattice casement overlooking the yard.

On 7th July 1852, the day following the conveyance, Smyth took out a mortgage with William Huckerby the younger (the same who had witnessed William Pilgrim's will) for £400 plus interest. The mortgage document establishes that Pilgrim had built, or possibly rebuilt, the house:

Messuage fronting Church Street some years since erected by Wm Pilgrim on the site of an ancient messuage with dwelling house and premises theretofore in the occupation of George Greenwood (Listed in 1832 directory as a farmer of Church Street)
And also that malt kiln and offices hereto occupied on two situate in or near Church Street adjoining or lying near the said dwelling house theretofore in the occupation of William Whitworth and John Welch and now unoccupied
The usual foreclosure clauses in event of default are included. On the reverse of the mortgage deed is an indenture confirming repayment on 4th January 1859.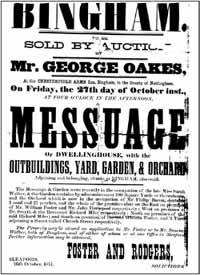 Pilgrim's niece Sarah Walker died on May 20 1871, aged 71years. On 26 June 1873 John Foster, surviving trustee of William Pilgrim, sold the cottage on the east of the yard to Joseph Richmond, farmer of Tideswell Derbyshire - all that tenement formally occupied by Sarah Walker - for £187-0-0. This was in accordance with William Pilgrim's will giving Sarah lifelong interest, and presumably the proceeds were then distributed to the 'other nieces etc'. A plan is attached to this and clearly predates the Victorian front extension to this building (now number 11 Church Street).
Smyth is not mentioned in the directory for 1871 so presumably had ceased to practise. In 1872 Henry Wootton appears in the directory as a surgeon of Church Street. The 1881 census lists him as aged 41, his wife Sarah as 42, three children aged 13, 12 and 10, a governess, a servant and a groom. White Lodge is the only house they could have occupied with that household! Wootton was still in Church Street in the 1889 directory but those for 1891, 1893 and 1896 show him as a surgeon in Porchester Villas. One can only wonder why he moved. In 1891 Wootton would only be 51 and interestingly the census for 1891 does not show him living in Porchester Villas, and indeed he is not listed in the Bingham census at all. His daughter Martha, a 22 year old schoolmistress, is shown as visiting John and Ann Gilman in Porchester Villas. Curious!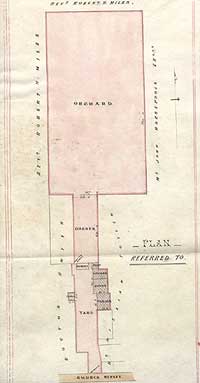 On 17th June 1881 Luke D Smyth arranged a mortgage against the Bingham house with Samuel Dutton Walker, architect of Nottingham, for £500. Possibly the mortgage was to fund a house purchase in London for his retirement. The property is now described as:
Formerly in occupation of Richard Hubbard for many years the mortgager (Smyth) and now of Henry Wootton.
Thus Smyth had probably sold the practice, but not the house, to Wootton during 1871. The parish magazine records that Dr Wotton (sic) had replaced Smyth as Secretary of the coal club committee by 1873. The mortgage deed notes that the malt kiln is now occupied but the does not say by whom. A right of way was granted across the yard for occupants of premises to east of the dwelling house formerly belonging to Wm Pilgrim then to Sarah Walker and now to (no forename) Richmond. This is across the yard between the present numbers 9-11-13 and numbers 15 – 15c.

Samuel Dutton Walker died 15th June 1885 and appointed his wife Rebecca as executor (with Arthur Williams). Luke Smyth died on 21st December 1885 leaving everything to his wife. He still owed £500 principal plus interest and the papers note that 'Emma Smyth is desirous of paying off the loan'. On the reverse of the mortgage deed there is an indenture of 4 August 1891 between Elizabeth Rebecca Walker and Emma Elizabeth Smyth of Tonbridge Wells, widow recording the repayment.

Wootton had gone by the time of the census of 1891, which lists Samuel Kirkby as a medical practitioner in Church Street In 1891 Samuel Kirby was aged 37, his wife 47 and they had only two daughters aged 16 and 11 a servant and a groom. The presence of the groom in the household suggests one can safely assume he was now at White Lodge.
The wives of Dr Wootton and Dr Kirby were aged about 40 and with fewer children than average for those times. Respectively the youngest child was 10 and 11. Perhaps lack of additional younger children indicates a serious health problem such as tuberculosis and one is tempted to suppose it if this were the case then either Mrs Wootton or Mrs Kirkby might have been the tuberculosis sufferer for whom the unusual window on the west wall was constructed to admit air but not rain to the bedroom.
Kirkby is listed in the 1893 directory but has disappeared by 1896 to be replaced in Church Street by Dr. Henry Westwood. They seem to have practised in Bingham at the same time for a while. The 1891 census lists Dr Henry Westwood in Church Street, presumably at number 17 as the deeds for number 19 name him as an occupier of number 17 prior to 1895. The directory for 1891 lists his practice at The Limes, in the Market Place which is a bit confusing as the 1891 census for here lists the large family of George Brown of Hardstaff and Brown the grocers. They rented the house from William Clifton, who by then lived in Notingham, so perhaps Westwood rented space for a surgery.

The 1892 electoral register has Westwood practising in Church Street, so the arrangement was short-lived. In the 1901 census Westwood is the only doctor listed in the census as living in Church Street so can safely be assumed to be at White Lodge. Although he was in Church Street in the 1905 register he was gone by 1908; the last entry for him in electoral register was 1907. Adelaide Wortley's History of Bingham records that Dr Cope came in 1912 and that he served in the First World War. No records are available for the period 1909 - 1914 and the electoral register for 1915 and successive years has him in Bingham. Whether he was actually here we cannot say!

Emma Smyth died on 4 November 1912; she had appointed her sons Arthur and Randolph as executors. The Smyth family still owned White Lodge and in documents dated 30 August 1913 Arthur Weatherby Smyth of Nova Scotia and Randolph Marriott Smyth of Dulwich agreed to exchange two small pieces of property with J Richmond next door, at number 9. The Smyths transferred, for £10, the site of a dung heap in the yard and now surrounded by land owned by Richmond and he transferred to them, for £30, the coal place embedded in the east wall of the outbuildings to White Lodge but always owned by the other house!

On 6 April 1914 the Earl of Carnarvon sold a piece of adjoining land to the Smyths for £150 – what is now the garden adjoining the school wall. The sisters' memoir of some 40 years earlier mentions that 'a new garden had evidently been taken in on the other side of the house, where there was a small lawn outside the dining-room window'. At that time Smyth must have leased it from the Earl; presumably the cottage occupied in 1841 by the joiner Thomas Widdowson had become empty. The plan from 1852 shows the land to the west was owned by the Earl of Chesterfield and also what we think was Widdowson's cottage on that land fronting onto Church Street. It is not there now and neither is there any sign of patching in the present garden wall which seems very old, being built of narrow brick. Close inspection of the tithe map suggests there may have been an alleyway between the two buildings. The garden wall may well once have formed the wall of the missing building, but there is no sign in the brickwork of where the alley would have been.

On the 14th January 1921 the Smyths sold White Lodge for £800 to Ethel Amy Cope. Ethel was the wife of Dr Ricardo Cope, and one wonders why he did not buy in his own name. They first appear in the electoral register for 1915, so must have rented from the Smyths for a period. On 15th January Randolph Marriott Smyth loaned Mrs Cope £400 towards the cost of purchase and she and Ricardo jointly covenanted to repay the loan. We have seen several instances in other deeds of a seller loaning money to a purchaser.

On 1 February 1923 Mr J Richmond sold the cottage once occupied by Sarah Walker to Mrs Cope for £450. This included the large orchard to the rear and reunited the two properties into the ownership of one family. This J Richmond is presumably son of the first one and the papers for White Lodge include a death certificate for Ann Richmond (his mother?) aged 90 years on 28 March 1825. The death certificate is signed by several well-known Bingham names – James Baldock (poor law overseer) (see 9 School Lane), J W Eaton, MD of 2 Long Acre (his surgery was at what is now 2a) (see 4 Long Acre) and James Warriner Mason, superintendent registrar.

A cash book for the years 1923 to 1927 survives showing payments by Doctor Cope's patients and for his work for the Board of Guardians (vaccinations, certificates of lunacy, etc), Nottinghamshire Constabulary and the Ministry of Pensions. Several well known Bingham families seem to have been on his list, including Cockayne, Walker, Hitchcock (1 Market Place.), Doncaster, Castledine, Downing, Kendrick and Cadge (the chemist) (see 8 Cherry Street). The cash book may give a clue to what was happening at this time. 1926 was the last full year of entries. 1927 shows a reducing workload with only a few entries per month, and 1928 has only two entries – March 3rd and June 16th. It would seem Cope was indeed winding down! His income over the period covered by the cash book had been:
1923
1924
1925
1926
1927
1928
£1382
£1503
£1564
£1204
£ 126
£ 0-10s
However, Wortley records that Dr Cope died on 2 September 1926 aged only 50 (page 133). On closer inspection one can detect changes in handwriting in the cash book from the beginning of September 1926, perhaps indicating a locum was at work. Cope is last mentioned in directories in 1925 and neither Cope nor Crofts is recorded in 1928. Miss Wortley records that Dr Cope had served in World War One and had spent time in Africa before that. His coffin was draped in the Union Jack and a memorial fund collected £186-4-7 which endowed a bed at the General Hospital in Nottingham. A memorial book was presented to Mrs Cope and Canon Hutt wrote a fulsome tribute to the doctor in the Parish Magazine.
The earliest directory in which we have been able to find Dr Crofts is 1932, which being the earliest entry in the electoral register also rather confirms the date he came to Bingham! Mrs Cope still owned the house so Crofts had presumably bought the practice but not the house, but there is no record of when this happened. Dr Crofts named the house Wingfield, and took the name plate with him when he moved to practise at 2 Long Acre in 1946. The Wades re-named the house 'White Lodge'.

On 16th October 1957 Ricardo Charles Cope (son of the doctor), a commercial clerk of Burton Joyce, signed an assent to take over the property following his mother's death. Dr Wade was already in possession, renting from Mrs Cope. Mrs Wade confirmed to us that Mrs Cope had lived in the cottage (number 9) and rented White Lodge to the Wades. On 1st September 1963 R C Cope sold the main house and the cottage to Dr Oswald Tetley Wade for £4500.

On 30th July 1982 the Wades sold the cottage (by now in need of restoration) and some of the orchard. Dr Oswald Wade died on 6th October 1995. On 24th April 1997 Mrs Wade sold land formerly the orchard for building a bungalow and on 15 May 1998 she sold the connecting piece between the cottage and garden. Mrs Wade's booklet 'Forget-me-not – Memories of a Country Life' contains many interesting anecdotes of life in the Wade household at White Lodge. It is available from the Bingham Tape Scheme. The present owners purchased the house from Mrs Wade in 2002; one is a doctor thus continuing the tradition of it being a medical family's house for over 160 years.