1 Market Place
Summary
The building is clearly Georgian. James Harvey erected a tailor's shop and dwelling house on land leased to him by the 6th Earl of Chesterfield and sold to him in 1839. Various entries in trade directories suggest a build date of between 1822 and 1829. It would be nice to know if there had been a traditional shop front or if it looked like a house. For a few years in the 1850s Harvey also ran a beer house here. The rear of the premises may not be of the same age; it could be later. The papers record the previous history of trusts for the various Earls of Chesterfield following Philip Dormer Stanhope, the 4th earl. His godson, another Philip in 1773, succeeded him.
James Hardstaff, the Market Street grocer, bought the property in 1862 and most probably used it as a house not a shop. In 1884 Sonia Shepperson bought it and rented it to James Robert Skelton, a water engineer's assistant. James Harvey Lamin, bank clerk, who may have been the original owner's grandson, bought it in 1893 to live in. He sold in 1903 to Edwin Hitchcock, a watchmaker and jeweller. He used the premises both as shop and residence much as James Harvey had done 60 or so years previously. His son followed in that trade and in 1974 the property was leased to the 'Reverie' glassware and gift shop and now to 'Birds' the bakers and confectioners.
The properties north and west and south of 1 Market Place remained with the Chesterfields. To the north is now the 1970's Eaton Place. In 1839 a butcher's shop had been next door, and in 2001 it is again a butcher's shop. In 1839 the property to the south too had been a shop but as yet we have no information on it. The former butcher's shop of Hopkinson's was built in 1840, so there was probably another building that preceded it.
Review of Deed Documents and other information
1 Market Place is a shop within a pleasant Georgian house. The documentation for the property goes back to 1772 and, inevitably in Bingham, starts with the Earls of Chesterfield.
The Abstract of Title of George, 6th Earl of Chesterfield, recites the will of Philip Dormer Stanhope, 4th Earl of Chesterfield. Philip Dormer was a prominent man, as outlined in the extract below from Microsoft® Encarta® Online Encyclopaedia 2001
"A supporter of Sir Robert Walpole, Chesterfield served as ambassador to the Dutch Republic (1728-32) and also as lord high steward (1730-33) but was dismissed because he opposed the passage of an excise tax. Chesterfield then joined the opposition. As lord lieutenant of Ireland (1745-64) Chesterfield sought to effect peace among the opposing factions. He later served as secretary of state to George II. Chesterfield died on March 24, 1773, in London.

Chesterfield's fame as a man of letters rests upon a series of letters, published after his death, that give a faithful account of the manners and customs of aristocratic society in 18th-century England, written in a graceful and witty style. One series, Letters to His Son (1774), were addressed to his illegitimate son, Philip Stanhope. A second series, Letters to His Godson (1890), was addressed to another Philip Stanhope, a distant cousin and godson whom Chesterfield adopted as his heir after the death of his son. "
Philip Dormer died in 1773 and in his will left 'all his manors messuages lands tenements and hereditaments in Buckinghamshire, Bedfordshire, Hertfordshire, Derbyshire and Nottinghamshire' in trust naming Lovel Stanhope and Beaumont Hotham as trustees.
However he did look after his widow, Lady Stanhope leaving her an annuity of £1000 per year 'issuing out of the estates of estates that were his late brother's'. The latter is presumably Sir William (died 1772) and or John Stanhope, Lord of the Admiralty (died in 1704), both without marrying. Or could Lady Stanhope have been his sister Gertrude who also outlived him and died in 1775 without marrying? It might be more logical to cite his brother's estates, which he would have inherited, to support his sister.
His wife, Petronilla was Baroness Aldborough, an illegitimate daughter of King George I, and may well have been provided for by the Royal Household. She died in 1778. It is perhaps no great surprise that they did not have children; at the time of their marriage he was 39 and she was 40.
The settlements were described in the Cromwell House papers as 'to preserve continuing remainders', which presumably is legal speak for ensuring the continuity and integrity of the estate whilst enabling various descendents to have the use and income of various bits during their lives. The Abstract used for Cromwell House highlights some different information from the Chesterfield papers.
Various other arrangements, generally 'to the use of … for their life' were made for many of the Stanhope clan and their heirs and successors. Several servants and others did quite well too. The mother of his 'late natural' son, Mrs Elizabeth du Bouchett received £500. His secretary got £300 and his valet an annuity of £80. The valet's son received £20 pa and his trustees received annuities of £100.
William Stanhope, 'natural' son of his late brother, Sir William, who died in May 1772(a month before Philip Dormer's will) received an annuity of £100 and Mrs Ilsey an annuity of £25 'in lieu and discharge of like annuities given them in his brother's will'. Presumably Mrs Ilsey was William's mother.
An interesting provision relates to any wife his heirs might take in the future. He allows his heirs to settle annuities on their widows to be paid out of the estates, but only up to a maximum of £2000 per annum. And this would be reduced to allow for any dowry over £1000 they had brought to the marriage.
Philip Dormer's (illegitimate) son, Philip Stanhope, predeceased him so he had no direct heir. He bequeathed the residue of his estate to his godson, also Philip Stanhope, the son of 'his kinsman' Arthur Stanhope. The godson is described in encyclopaedia articles as a distant cousin. He inherited the title following the normal rules of lineage (not because he happened to be Philip Dormer's godson and chosen heir, as some writers imply) and became 5th Earl. He was a distant cousin in that his line does not connect with the 4th earl's until the lines reach back to the first earl (another Philip), who died in 1656.
Philip thus became the 5th Earl in 1773 and died in 1815. The deeds are silent in respect of him. The next event in the abstract is an indenture of Lease and Release by George Stanhope, 6th Earl, Philip's son.
This indenture, dated 3rd and 4th November 1826 is between the earl and Henry Archer Raymond and George Law, both of Lincolns Inn Fields - clearly lawyers, from the address, and presumably the earl's trustees at the time. Lease and Release was a device for transferring freeholds outside the family without having to register the transaction and reveal names. But in 1827 (dated in the abstract as 7 Geo 4th) there is an 'Exemplification of common recovery', wherein the whole lot is transferred back to the earl. (An exemplification is an attested copy of a document). This whole process seems to be a method of setting up a new trust, maybe none too publicly, for the future protection of the estate.
The 1826 indenture included a long list of properties in Bingham with area and acreages. 1 Market Place was part of one of these properties but not separately identified at this stage.
On 20 and 21 October 1830 new indentures were drawn up, but in respect of properties in Derbyshire and Nottinghamshire only, between George Stanhope, 6th Earl and Rt Hon Ann Elizabeth Forrester, daughter of Lord Forrester, in anticipation of their forthcoming marriage. Three pairs of new trustees seem to have been appointed -Arthur Stanhope and Rev Charles Williams (Rector of Cubley, 6 miles south of Ashbourne); the Duke of Rutland and John Weld Forrester; Viscount Castlereagh and Rt Hon Henry Cavendish. It provides for an annuity of £4000, payable from the rents of the estate, for Elizabeth should she survive him.
Six years later an interesting set of legal processes were enacted over a three-day period. On 21 and 22 November 1836, indentures of lease and release were signed between Rev Charles Williams (now Rector of Gedling, patron the Earl of Chesterfield), the Earl and William Eaton Mousley of Derby (the Earl's solicitors in Derby who drew up many of the Abstracts of Title we have seen in numerous deed packs). Arthur Stanhope, the other Trustee had died in August 1836. The Earl wished to appoint Mousley to succeed Arthur as trustee. Joseph Hassal (the Earl's agent and presumably father of the well known John) of Packington, Derbyshire was also party to the indenture.
On 22 and 23 November 1836 indentures of lease and release were signed transferring the estates from Joseph Hassall to Mousley and Williams.
The trust deeds also provided for trustees to sell any parts of the estate at the request of the Earl, except the family seat at Bradby Park) an alternative spelling of Bretby, near Burton). 1 Market Place was soon to be sold in this manner.
On 16 and 17 July 1839 the property was sold, again using the process of lease and release, to Mr James Harvey of Bingham who is described as tailor. By this time John Hassall, of Shelford, is 'of the fourth part' acting as agent.

The property is described as '319 square yards near or adjoining the Market Place upon which the said James Harvey has recently erected and built a messuage or tenement, outbuildings and shop'. The price was £180. Thus one can assume the building is pre-1839. Interestingly it was built as a shop and is not a later conversion of a house. Pigot's directory of 1829 lists James Harvey as a tailor of the Market Place as does Whites of 1832. Is this the same building or did he move (the latter seems unlikely but possible)? Harvey is not in Pigot's 1822 directory. So we have the possibility of the building dating from between 1822 and 1829, which seems reasonable.

The wording of the indenture could be interpreted as the shop being separate from the house but the plan clearly shows the frontage to Market Street as measuring 26 feet - exactly what it is today so we must assume the shop was an integral part of the building.

On the 1839 plan the plot was bounded on the north and south by property owned by the Earl of Chesterfield. That to the north was occupied by William Strong (and shows a right of way to Mr Strong's along what is now the side entrance to the flats). In the 1826 list of properties William Strong is occupier of a butchers shop (measuring 14 perches - 423 sq yards) in Market Place. In later directories he is shown as a farmer of Market Place. The property to the south was occupied by Mary Gamble. The 1826 list shows W Gamble as occupier of a dwelling house, shop and land of about five acres, so this piece could perhaps be the predecessor of the 'Hopkinson' shop. At the time of the plan, thirteen years on, this could be his widow. In 1853 Mary Gamble was listed as a dyer, perhaps in the 'new' 'Hopkinson' shop. The property to the west was owned by Mr Buck. Eight years earlier, the 1831 directory lists John Buck, gentleman of Union Street. (in 1826 he was a mortgager to William Stokes at 4 Long Acre) By 1862 Edward Bowler Buck owned the property to the west, part of which Harvey had leased at some point. This may well have been to gain access at the rear, which in 1974 becomes the subject of a right of way agreement with Bingham Rural District Council. The rest of Buck's land was occupied in 1862 by William Cooke.
| | |
| --- | --- |
| 1843 Signatures | Harvey must have soon been in financial straits of one kind or another as on 1 March 1843 he mortgaged the property to Mrs Ann Mabbott, widow, for £400 at 4%. Harvey continued to occupy the premises as Mrs Mabbott's tenant at a rent of £16 per annum on top of his interest. Harvey borrowed further sums from Mrs Mabbott - see 51 Grantham Road. In the 1861 census Ann Mabbott is listed as a resident of Needham Street and as a proprietor of houses. Clearly a lady of some wealth, one could speculate as to whether she lived at Brompton House, the only house of any substance in Needham Street. In a directory of 1855 James Harvey is listed as tailor and beer seller (and in 1853 just as a beer seller), so perhaps he was diversifying to solve his problems. In the case of default on the repayments of principal or interest Ann Mabbott was empowered to take possession and sell the property within six months of giving due notice. Harvey directed in his will (dated 21 February 1860) that on his death his estates were to be sold by his executors John Doncaster, surveyor of Bingham, and William Lamin, farmer of Saxondale. John Doncaster is listed in Kelly's 1869 directory as an architect of Providence House which he built (Now Long Acre House) and in an 1879 directory as surveyor and brick maker of Long Acre. His name appears in several deeds we have seen as agent, trustee or executor etc |
| | |
| --- | --- |
| 1862 Signatures | Harvey died 27 February 1862 and was then described as a yeoman. On 21 October his executors redeemed the mortgage. The accumulated unpaid interest amounted to nine pounds and seventeen shillings. Two days later they sold the property to James Hardstaff for £500. Ann Mabbott was a signatory to this deed too, and interestingly although she had signed in 1843, in 1862 she only made a mark - an indication of advancing years perhaps; she was 80 years old at the time of the 1861 census. |
James Hardstaff appears in several directories. In 1829 he is a 'grocer of Market Street', by 1832 a 'grocer and ironmonger' and in 1844 a chandler. By 1877 he is recorded as a private resident 'of Market Place' and in the same directory 'Mrs Sarah Hardstaff and George Brown' are listed as grocers of Market Street. So the directories seem to be implying he did not use the premises in the Market Place as a shop. The census of 1861 points to Sarah being the widow of William Hardstaff, grocer of Market Street (1864) aged 32. We do not know if he was James' son.
Hardstaff died on 23 October 1883 and had appointed as his trustees Joseph Morris, a draper and grocer (recorded as in Market Street 1853 and 1889), and Andrew Shepperson, recorded in 1879 as a builder of Nottingham Road and in 1895 as living at 'White House'. He left them £5 each and directed them to sell his estate and place the proceeds in trust for the support of his children and grandchildren. Several Hardstaffs are buried in Bingham churchyard.
The property was sold in 1884 for £410 (£90 less than it had cost 21 years earlier) to Sophia Shepperson, Andrew's wife. She bought it 'out of monies belonging to her for her separate use as the said Andrew Shepperson hereby admits'. The property was described as '… formerly used as a shop', another indication perhaps that James Hardstaff used it as a residence (for his retirement?) only, which makes sense as he already had the shop in Market Street (it was at the corner of Union Street in 1901- see the photograph in Bingham library). Sonia rented the house to James Robert Skelton. He is listed in the 1891 census as a water engineer's assistant. He was aged 32 and lived in the house with his wife Mary (33), three daughters (6,5 and 3m) and a sixteen year old servant Fanny Wilson.
Nine years later in 1893 Sonia Shepperson sold the property for £445 to John Harvey Lamin, who was possibly related to William Lamin who we know from deeds of 51 Grantham Road was John Harvey's nephew, making William Lamin his son in law. One would guess from the use of Harvey as a middle name that James Harvey Lamin was a grandson of James Harvey and that his mother had been James' daughter, which would explain William's executorship. The house was coming back into the family. Again it is recorded as 'formerly used as a shop'.Skelton was noted in the deeds as having recently been in occupation at the time of the sale. Perhaps he had moved on to pastures new as a water engineer!
The 1896 directory notes John Lamin was a clerk with Wright and Company's Bank, which was in Nottingham, and lived in the Market Place, as is confirmed in the next deed when he sells on 14th April 1903 for £435 to Edwin Hitchcock, jeweller of Bingham; it was 'until recently in the occupation of the vendor'. At the time of the sale Lamin was living in Radcliffe. In Kelly's 1895 directory Edwin Hitchcock is described as a watchmaker but it does not give an address. At that time he lived and had his business at what is now 6 Station Street. His father, Bedford Skinner Hitchcock, owned both No 6 and No 4, where he was in business as a boot and shoemaker.
At this time the Earl of Carnarvon, having come into the properties by marriage, still owned the properties to the north and south and a Mr Richmond owned the property previously owned by the Bucks.
On 15th April 1903 Hitchcock took out a mortgage with Robert Hallam (gentleman, of Radcliffe, the solicitor who had acted for him in the conveyance) and Thomas Foster, butcher. The mortgage was for £350 and interest was charged at 4½%. The mortgage was redeemed in 1909.
The owners of Cromwell House found this billhead.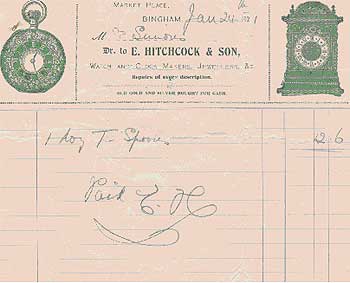 Edwin died in 1939 and was succeeded in the business by his son Albert Ernest who continued the business as a jeweller and watchmaker.
Albert died in 1972 and the property passed to his daughter Irene and son Edwin. In 1974 the property was leased to the Jacques brothers for the business called Reverie. Also in 1974 a right of way agreement for rear access from Union Street (see earlier) was made with Bingham Rural District Council.

Photo: Margaret Sibley

The Building

The building is typically Georgian and quite elegant in a low-key sort of way. However it would seem that the original or subsequent owners embellished the exterior to make it look rather grander than it really is. The corner brickwork on the street façade has been painted to resemble the stone or stuccoed quoins that would have graced a more expensive building. Number 1 Union Street has stuccoed quoins that might have provided the model. Also the window lintels look like stone or stucco - again compare 1 Union Street - but are actually made of wood boarding covering the normal (probably) rubbed brick. The square dentils utilising brick headers to the eaves suggest a reasonable age.

The rear part of the building is of narrow brick, but the modern extensions obscure the join with the front and thus one cannot tell if it is bonded into the front or if it might be of a different period. Round-ended bricks, quite different to the simple dentils at the front, support the eaves here. It would probably not be older or it would have been mentioned in the deeds as an existing messuage. The rear is roofed with pantiles. The front building is slated, but this would probably have been a later improvement with the coming of the railway. Quite a few buildings in the Market Square area have slate roofs that are probably later than the buildings they cover.

The current shop front is clearly modern. We do not know how the shop was first incorporated into the design of the building except that it was part of the original construction by James Harvey. As he was a tailor, perhaps there was not an obvious 'shop window' as such; maybe it looked like a house. Hardstaff and the successive occupants would probably not have left it as an obvious shop front and might not have bought it if it looked like one! The photograph is from 1973; an early postcard of Church Street shows the shop had a similar frontage in the early 1900s.
Directory Entries:
1829

James Harvey
tailor
Market Place

1832

James Harvey
tailor
Market Place

1844

James Harvey
draper and hatter
Market Place

1853

James Harvey
beer seller
Market Place

1855

James Harvey
tailor and beer seller
no address

1864

No record of Harvey - perhaps he had retired

1829

James Hardstaff
grocer
Market Street

1832

James Hardstaff
grocer and ironmonger
Market Street

1844

James Hardstaff
chandler
Market Street

1853

James Hardstaff
shopkeeper

1855

James Hardstaff
grocer and tallow chandler
no address

1864

William Hardstaff
grocer
(has James retired?)
Market Street

1877

James Hardstaff
private resident
Market Place

1879

James Hardstaff
private resident
Market Place