Porchester Terrace
Long Acre
Summary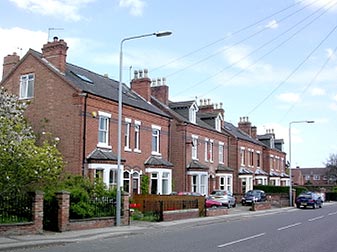 Porchester Terrace is nowadays more prosaically known now as numbers 71 to 85 Long Acre, having in the late nineteenth and early twentieth centuries been known as Porchester Terrace or, later, Porchester Villas. It is a row of four pairs of semi detached two storey houses with alternate pairs having, probably original, dormer windows protruding from the roof at the front; each of the others has more modern skylights. All display an attractive frieze of vertical 'dog toothed' brickwork just below eaves level, blue brick ornamentation and a quite exotic boot scraper set into the wall next to the front door. Each villa used to have a Minton tiled hallway floor- we know of only one that has now - and a Minton tiled lobby floor (four or five still have).

The houses were built by James Walker of Bingham and Thomas Forrest Enerby of East Bridgford between 1882 and about 1885. This is the only record we have so far of Walker having had a business partner, although the deeds to Banks Cottages show Enerby to have loaned money to Walker on another occasion. Numbers 71/3 and 75/7 are earlier than 79/81 and 83/85; they are on the 1883 map whereas the other pair are not (see Victorian Bingham, ed. Val Henstock, in the library). They are built on land leased in 1882 to Walker and Enerby by the fifth Earl of Carnarvon, he having inherited this part of his estate from his mother rather than through his father's marriage settlement. Lord Porchester was the courtesy title of the first son of the Earl of Carnarvon, hence the name.
The houses seem to have originally been purchased in blocks as investment properties to let, sometimes with an owner living in one. The freeholds were sold by the Earl in 1920 and gradually the houses came to be owner-occupied, often being sold to sitting tenants. Many tenants during the fist 40 years or so seem to have been active or retired members of the professions or successful traders in the town. We have traced the names of occupiers from electoral rolls between 1918 and 1939, but as these do not give precise addresses we can only link names to houses when we have supporting information from the deeds documentation.
Historical Background
The tithe map of 1841 (left) shows a large house to the west of Porchester Farmhouse (195) and fronting onto the street. Tithe numbers 190 (part),191 and 192 now form the plot occupied by Porchester Terrace (outlined in blue). Porchester farm to the west was occupied by William Chettle. 191 was a blacksmith's shop and dwelling, 1290 a garden piece stretching back to the churchyard. 192 was occupied by William Wilford, a stocking maker and his family. He may have had his workshop here too as he is named in the Trades directory and was therefore presumably self employed.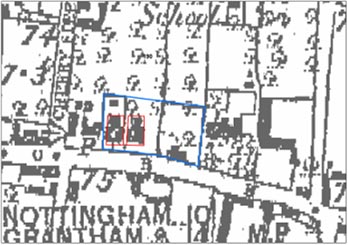 What was Wilford's house is on the 1883 map (right) but the blacksmith's has been replaced by numbers 71/3 and 75/77 (outlined in red). Thus 79/81 and 83/85 were built after the OS map was drafted. However, as all the land belonged to the Shelford Estate, the deeds we have seen are expectedly silent as to previous use or tenancy of the land leased to Walker and Enerby.
Walker, who built many of the Victorian/Edwardian houses in Bingham often built in small phases and on what we would now term 'brownfield' sites. The paper work we have seen in this case suggests the leases for each pair of houses were phased too, if only a matter of a few months apart. The freeholds to those houses for which we have seen the deeds so far were sold in 1920, as is the case with many Bingham properties. We think the fifth Earl sold the freeholds to finance his archaeological excavations in Egypt with Howard Carter who found the tomb of Tutankhamen. As usual the Earl retained the mineral rights.
It seems often to have been the case that a pair of houses, sometimes two pairs - were owned by one person. Sometimes the owner would reside in one and rent the other, sometimes the owner would be absent. Thus until relatively recently, many of these houses were rented. Examination of trade directories over the period suggest that the tenants were professional or retired middle class, possibly in some cases commuting to work by rail. A memoir in Bingham library by Gladys Benton recounts her childhood from 1894 to 1903 at number 83 and offers some fascinating insights into life and arrangements at the house. It also helps pinpoint the occupants of some of the houses about that time. The piece reveals that she was the great grand-daughter of postmaster John Strong.
We have been fortunate so far to have seen deeds for numbers 75 and 77 - formerly numbers 3 and 4 Porchester Terrace and one abstract of title for number 73 (formerly number 2). These are described below.
75 and 77 Porchester Long Acre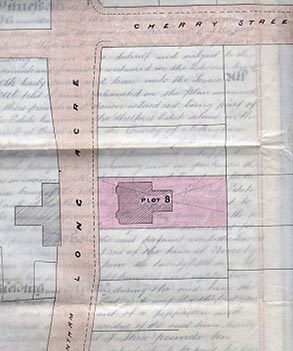 As has been the case with other houses, where a couple of properties have been in common ownership, the relevant papers seem to be split between the deeds bundles for each of them. Thus what follows is a based on the deeds for both houses.
Numbers 75 and 77 were described on a plan attached to the original lease from Lord Carnarvon and described as plot 8. Four plots are shown, demonstrating that both the previous buildings were part of the Shelford Estate. It would be interesting to identify the other plots as there could only have been four for Porchester Terrace - possibly other parts of the estate were being leased at that time in Bingham. Numbers 1 - 17 Long Acre were built around 1884 with plots numbered 31 to 36. Maybe the Earl was leasing a large amount of land at around the same time, such that plot numbers had to be used for ease of reference.
The Earl of Carnarvon leased plot 8 to Walker and Enerby on 16 May 1883. The lease implies the houses had already been built, as it was for 'the residue of the unexpired term of ninety nine years from 25th March 1882. This would have been the date of an agreement with the Earl to build - similar to others we have seen (Carnarvon House, 9 Newgate Street) with the formal lease being drawn up only once the building is completed. The rent for the first year was to be a peppercorn - perhaps indicating a rent free period during the process of building - and thereafter at £3-10-0d per year, with the first quarter's payment due 29th Sept 1883.

The Earl imposed his usual conditions relating to painting outside every four years and inside every seven. The houses had to be insured for £200 and were not to be used for a long list of purposes including selling liquor or as a factory or for other noxious uses.
On 7th June 1883 the builders sold the pair of houses to Phoebe Gilman for £525. The plot was described as being bounded
West by premises of William Henry Adie
South by Long Acre
East by premises of Walker and Enerby - houses yet to be built/sold
North by premises of Earl of Carnarvon
and then in occupation of P Gilman (there is no indication as to which actual house she occupied). Mrs Gilman had been licensee of the Wheatsheaf Inn, Long Acre in 1881 at the age of 60. One might reasonably surmise that in 1883 she retired to Porchester Terrace. We have traced her family through the censuses and gravestones in the Parish Church. She died aged 66 on 18th April 1887 and her husband John had died aged only 39 in November 1857. We came across an account the tragic death of her grandson in 1884. Click here (link to Gilmans.doc) for the details. He is also buried in the churchyard, his stone giving the date of his death as 22nd August 1884.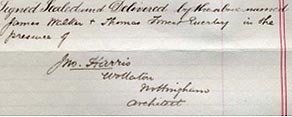 The lease document was witnessed by Jonathon Harris, Architect of Wollaton. Did he design the houses perhaps? The houses are more ornate than the usual Walker style so were perhaps aimed at folk of some means, and one wonders if on this occasion he used an architect rather than a pattern book.
We know from a later document that Walker and Enerby also assigned the lease to Gilman at the same time; unfortunately this document and the agreement of the Earl which would have been required, are not now with the deeds bundle (as some were for Carnarvon House).
On 31 December 1885 Phoebe Gilman made her will appointing George Brown and Wallace William Hardstaff executors and bequeathed her FOUR leasehold dwelling houses in Long Acre to her son John Gilman during his life and afterwards to any children of his - if male at age 21, if female on marriage…with equal shares as tenants in common. We do not know where the other two houses were as they were not mentioned on the conveyance. They may have been the pair to the east (79/81) as we know from the lease the pair to the west was owned by Mr Adie. Phoebe died on 18 April 1887 and John died on 9 September 1919. His son John Tom of 63 Mansfield Road, Daybrook, Nottingham, inherited.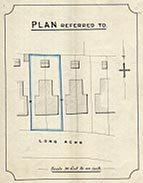 On 15 July 1920 the Earl of Carnarvon sold the freeholds of the two houses for £87-10-0 to Tom Gilman, now described as motor mechanic of 93 Front Street Arnold. The Earl sold many freeholds about this time, we think to raise money for his investment in Howard Carter's excavations of Tutankhamen) The two messuages are described as occupied by Elizabeth Lovett and Richard Henshaw. Lovetts were occupiers from (at least) 1918 to 1935 and Henshaws from 1918 to 1938. The Earl, as we have seen before, reserved the mineral rights. The plan on the left was attached to the document.
On 24 August 1920 John Tom Gilman sold each house to the tenants for £405; number 77 to Richard Henshaw, gentleman and number 75 to Elizabeth Lovitt, wife of Thomas Lovitt of Long Acre, gentleman so at this point single ownership of the pair comes to an end. The description gentleman rather suggests middle class occupation and ownership of Porchester Terrace, which was a clearly superior row of houses!
Number 75
Elizabeth Lovitt died on 4 February 1935 and her son John Robert of Woodborough Road Nottingham inherited the house. The electoral roll shows she still occupied the house. John Robert Lovitt died on 6 February 1942 and his daughters Annie Elizabeth and Kathleen Mary inherited.
On 13 December 1946 Annie Elizabeth (surviving her sister perhaps) conveyed the house to Mary Jane Rawson, wife of William Rawson of 3 Porchester Villas (so they were already in occupation and probably had been a tenant of the Lovitts) for £675. However, the Rawsons are not mentioned in the electoral roll at that time and indeed Arthur Morris was in occupation of number 75 in 1938. Very soon afterwards he bought next door and moved. William and Jane are in the electoral rolls from 1938/9.
The last document in the bundle is an Abstract of title of Mary Jane Rawson drawn in 1962, possibly for her executors to sell the house.
As well as the tiled hall floor and boot scarper, number 75 also boast the original front door bell! This was a lever in the lobby connected by wire to a sprung bell in the rear parlour.

Number 77
When he bought number 77 in 1920 Henshaw took a mortgage from Warren and Allen (solicitors acting as individuals using money from a joint account) for £150 with interest at 6%. He repaid on 7 March 1933. He died in 1935 and his executors were Alice Mary Henshaw, spinster, of 4 Porchester Villas and Richard Stevenson Henshaw, a Water Engineer of Wellingborough, presumably his son and daughter. In his will Richard Henshaw had specified that Alice, as well as inheriting the house, should pay his widow, Mary Augusta, an allowance of £20 pa. . Maybe the daughter remained unmarried and looked after her father and mother, as was not uncommon.
Alice died intestate on 20 March 1937; letters of administration were granted to her brother. On 27 July 1938 he sold 'all that plot known as number 4 Porchester Villas' to Mr A Morris junior, bricklayer of number 3 Porchester Villas for £475. .
On 22 July 1975 the personal representatives (his son and daughter Margaret Ellen Jackson of Long Acre and Alan Arthur Morris of 77 Long Acre) of Arthur Morris sold number 77 to Alan Arthur Morris.
73 Long Acre
Amongst the papers for number 75 are some papers referring to number 73.
The first is a conveyance document dated 21 April 1947 from Cyril Walker Kendrick of Cherry Street (see 8 Cherry Street) for further references to Mr Kendrick) surveyor, to Walter Morris Miller Church Street, baker for £1000 (he used to run the shop at what is now 15 Church Street). The document records that No 2 Porchester Villas was then in the occupation of Miss N Smith.
The electoral rolls show that Cyril Kendrick and his mother Gertrude lived there in 1918. He moved to Cherry Street in 1920 and his mother continued at number 2 until 1925, after which Dorothy Kendrick (Cyril's sister?) was in occupation. Mary and Kate Smith were in occupation from 1929 until at least 1939. Although she has no recollection of her grandmother. Mr Kendrick's daughter remembers accompanying her father to collect the rent from the two elderly ladies!
The document also states - The vendor acknowledged the right of purchaser to see title documents which he reserved to himself which probably means that Kendrick owned next door as well. The conveyance was witnessed for Kendrick by F C Hobley, of Ferndale, Long Acre, a surveyor's assistant (possibly he worked with Kendrick who was the Surveyor for the rural District Council).
A schedule refers to lease of 4 April 1883 between Earl of Carnarvon and James Walker and Thomas Forrest Enerby, about six weeks before the lease for numbers 73/75. This probably confirms the westerly pair was built first. On 17 May 1919 the lease was assigned from Frederick Flint - presumably the first owner of the house after Walker built it - to the vendor, Kendrick. We have found no records of Mr Flint. On 15 July 1920 the Earl of Carnarvon sold the freehold to Kendrick (part of the Earl's general sale of leases at that time in aid, we think, of funding Howard Carter's excavations of Tutankhamen).

An epitome of title of Mr P G Emery to number 73 records that:
On 23 June 1962 Raymond Miller, Storeman, of 73 Porchester Terrace had letters of administration granted in respect of the estate of Walter Morris Miller late of 73 Porchester Terrace and assents to vesting of property in himself - i.e. inherits without a will! Walter had presumably retired from his shop to live at number 73.

And on 15 February 1974 Raymond Miller, by now of 86 Queens Drive Nottingham sold to Paul George Henry Emery 46 Aston Avenue Lenton Abbey Nottingham for £4600:
'all that semi detached messuage or dwelling house etc being No 73 LA, formerly 73 Porchester Terrace, formerly 2 Porchester Villas'
and vested in the Vendor by an assent of 23 June 1962.
The 1894 directory lists seven residents of Porchester Villas, but it did not list in what order they lived:
William Henry Adie (also 1889, 1897). Miss Adie is in 1900 directory but no address.
John Gilman (also 1889, 1897, 1900, 1901) The 1896/7 directory also has a John Gilman of Long Acre as a farmer, but whether they are one and the same we can't tell!
Sarah Hardstaff (also 1889, 1897, 1900, 1901)
John Wilkinson Wright (In 1889 listed as Coal Merchant and Inspector of Nuisances)
Thomas Jones (also 1900 but not 1901)
Charles Strong, a manager In 1897 'of Barber and Sons', Long Row, Nottingham who were grocers, Italian warehousemen and wines and spirits merchants, to which he very likely commuted by the newish railway! He is also in 1900 directory but not 1901. See Marion Benton's memoir which tells us he first of all worked for what became Hardstaff and Brown before moving on when he could not afford to buy in as partner. It is somewhat ironic he ended up living next door to the widow of James Hardstaff the original owner for whom he had worked!
Henry Wootton, LRCP, MRCS who had been the doctor at 7 Church Street in 1889. He was still here in 1897 and in 1900 but not 1901.
The censuses of 1891 and 1901 indicate occupants were either serving or retired mangers or professionals.
| | |
| --- | --- |
| 1891 | 1901 |
| William H Adie, 80, own means | Sarah Adie, 61, own means |
| Henry Bell, 27, own means | Samuel Mosley, 50, Estate Agent |
| Alfred Edwards, 37, provision dealers asst | Alfred Edwards, 45, Insurance agent |
| * | Cecil Doubleday, 28, printers manager |
| John Gilman, 40, own means | John Gilman, 50, own means |
| Sarah Hardstaff, wid, 66, retired grocer | Sarah Hardstaff, wid, 66, own means |
| Charles Strong, 34, grocer's assist | Charles Strong, 44, grocer |
| Thomas Jones, 64, wid, ret shoolmaster | Thomas Jones, 72, wid, ret shoolmaster |
The directories for 1922 and 1932 reveal the following names but listed all as private residents:
| | | |
| --- | --- | --- |
| Number | 1922 | 1932 |
| 1 | EOD Barry | EOD Barry |
| 2 | Mrs Kendrick | Mrs Kendrick |
| 3 | Thomas Lovitt | Thomas Lovitt |
| 4 | | Richard Hensahw |
| 5 | Frederick Taylor | Frederick Taylor |
| 6 | John Walker | John Walker |
| 7 | | Joseph Pilling |
| 8 | CE Doubleday | |