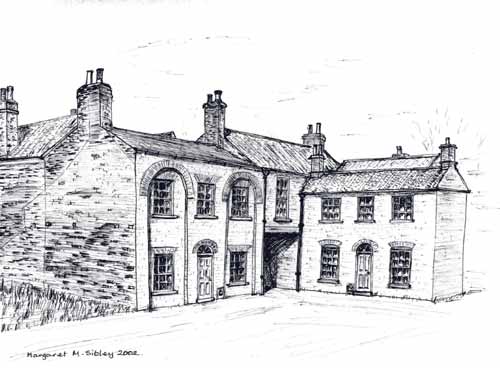 Brompton House is shown as it might have been about 1840. It may have been the home of John Mabbott a lace agent who possibly provided out-work for the many lace runners noted in the 1841 census for Bingham. The attached cottage (it may have been the Hop Pole public house for a while) was demolished to give access to Eaton Place. The restored arched carriage entrance may reflect the original design. In the 1960s it had a straight joist. To the rear one can see a blocked archway suggesting a different position for a carriageway. Old photographs taken after the 'Hop Pole' was demolished do not show this carried through to the front so it is more likely to have been a barn doorway.
The house was built in 1831. There is a dated brick (GB 1831) and a similarly dated drain pipe header at the rear, together with an old wood enclosed pump with stone trough. GB could have been George Berry, draper, who is mentioned in directories from 1832 to 1865 and in the 1841 census comes immediately before the entry for John Mabbott. (link to Mabbotts, Fairfield Street folder - to come on next disc!) Perhaps these were two separate residences. The smaller would probably have been adequate for the unmarried Berry, who could have lived over the shop and the blocked barn doorway might have given access to a horse or cart accommodation.
The house was 'modernised' in (probably) late Victorian times, when the door was moved to the right and a pair of sash windows inserted mid left on the ground floor. The position of the boot scraper, a long stretch from the right hand door, rather suggests the original door would have been central and therefore the faced would have been symmetrical as one would expect. The restoration of 1995 has replaced the Victorian windows with a door to produce a symmetrical appearance, but wrongly!
During restoration substantial amounts of candle wax were found in the cellars, which could indicate the building was used a candle making workshop at one time.
Rumour has it the building was saved from demolition during the slum clearances of 1950 by Mr Birch the RDC clerk who lived in the house! The last private occupant was his widow. Mr Birch's mother had lived there previously, she was a milliner.
In recent times the right hand portion was used as garage and millinery showroom but with hooks for hanging the candles that were once made here.