42 Nottingham Road
(Elm Villas)
Summary
42 Nottingham Road is half of a simple semi-detached pair of villa built about 1905 by James William Wilson, a local builder. Wilson's father, Reuben, was described in trade directories for the last few years of the nineteenth century variously as a joiner, builder and cottager. The pair of houses had various owners who rented them to tenants for much of the twentieth century until number 42 was purchased separately by Charles Larkin as his residence. The house was sold in 1972 and again in September 2004.
Reuben Wilson had purchased a close of about 2.5 acres in 1875, on which he may have firstly built 'The Homestead', 36 Nottingham Road, in 1876. That house carries a date stone with the initials JW. The initials may have been for John Wilson, possibly Reuben's father, who had been a bricklayer but by 1851 was described as a coal and lime agent of Fisher Lane. Reuben is recorded in the 1881 census as living around this part of Long Acre – Nottingham Road was part of Long Acre at this time. The ten year-old 'James W' of 1871 had dropped the 'James' in favour of 'William' by the 1881 census. James Walter Wilson's granddaughter still lives in Bingham and remembers the Wilson's having a builder's yard at what is now number 38 Nottingham Road, , so it is possible he built this too. Her grandfather moved to Battersby House (11 Newgate Street) where he had a builder's yard next door (the present number 13). We have not yet ascertained if he built Battersby House but it would seem a possibility. This is next door to 7-9 Newgate Sreeet, so if he built number11 he may have also built 7-9 for which we could not identify a builder.
Review of Documents, census and Directories
An abstract of title of James Walter Wilson, prepared in 1940, gives a potted history of the development. No older original papers such as leases or conveyances are with the deeds – it is possible these are with the deeds for number 40 as they would relate to both houses.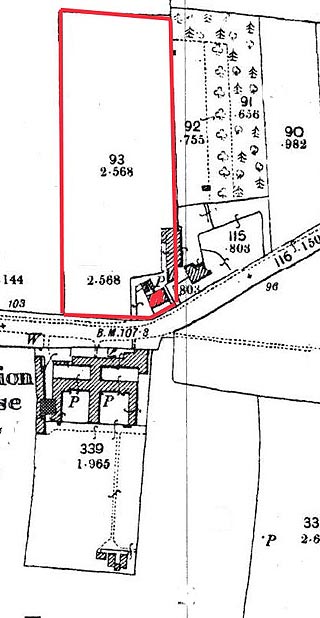 In February 1875 John Manning, a grocer of Nottingham, sold a piece of land known as Catchems In Close to Reuben Wilson, described as a joiner. We have been unable to trace a close of this name, but it would seem to be the field outlined in red on the 1835 Sanderson map (above).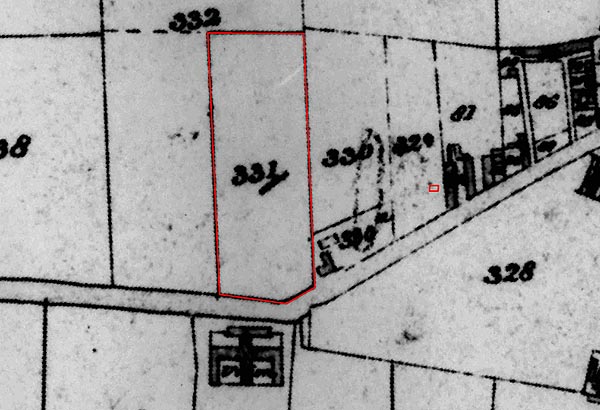 On the tithe award map of 1841 (above) it seemed to be named Townsend Close. It was owned by Mary Watkinson and let to William Tomlinson, landlord of the Wheatsheaf Inn. Mary owned the freehold of the Wheatsheaf and another meadow in Chapel Field which she also rented to Tomlinson.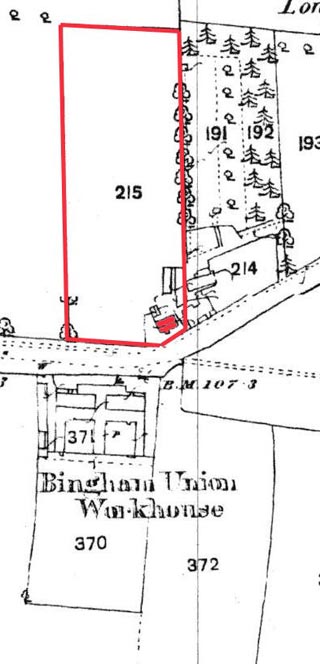 The field remained undeveloped until a few years before 1884, when the OS map, above, shows 'The Homestead' to be in existence in the SE corner of the plot (coloured red) - presumably built by Reuben just before 1880. The earliest reference to Reuben is in the directory of 1879 when he is listed as a joiner and builder of Nottingham Road. In later directories he is listed as a cottager as well, suggesting he did not do enough building work to survive on that alone; by 1900 he was described just as a farmer, by which time he would have been aged about 65. The whole of the plot of about 2.5 acres would have made a viable cottager's holding
Reuben died intestate in 1905 and his son James William was granted letters of administration. In 1901 he mortgaged the piece of land on which the semi detached villas now stand to Samuel Weston, a gown merchant of Nottingham. Documents were not actually drawn up until 1906, when the land was described as
Fronting onto the turnpike road from Nottingham to Grantham amounting to 388 square yards formerly part of a close or pasture called Catchem In Close conveyed to Reuben Wilson on 24 February 1875 and bounded on
The north and east by other property of J W Wilson (The Homestead and the remaining part of the close)
South by the Turnpike
West by hereditaments of John Hutchinson
And also
Those two messuages and outbuildings recently erected by J W Wilson
He borrowed £250 initially at 4%, and then another £150 in December.
This may have been to provide working capital to build the houses, as we have seen in many of the operations of another Bingham builder of the period, James Walker. It was still common, even though banks and building societies had been long established, for private mortgage loans to be arranged in this manner.
The houses remained in Wilson's ownership until he died in 1940, having a succession of tenants. Wilson's son-in-law, James Robert Dyble and his friend Arthur Parry, the County Surveyor, were executors. In 1942 Dyble sold both houses for £430 to Frank Sherwood, a farmer of Barton in Fabis, and he presumably continued to rent them to tenants. In 1942 the tenants were recorded as J W Strong and George Ward. Sherwood took a mortgage with Nottingham Building Society for £300.
In August 1949 Sherwood sold the houses for £550 to George Hales, an estate agent of Nottingham. There is an interesting note on a later abstract of title to the effect that
'The property was on 1st July 1948 used as a single house and curtailage…'
Whether the houses were ever 'knocked together' we do not know - they are certainly separate now!
Hales sold them to Thomas Arthur Roadley a few months later for £800. He was described as a small holder of Nottingham Road - but we do not at present know if he had acquired any of the other land for his business, or indeed where his small holding was. In 1959 he sold number 42 for £1425 to Charles Alexander Larkin, who seems to have been the first owner/occupier since the house was built. As was common at that time he took a mortgage with Bingham Rural District Council. He died in 1972 and his widow Hilda sold to Darrel Spencer. The house was sold again in September 2004.