SOME OFFENCES IN AND ABOUT BINGHAM
Criminal acts, if found out, were punished in a variety of imaginative ways until comparatively recently. They ranged from whipping to hanging, with transportation, the pillory and penal servitude in between. Crimes committed in and around Bingham found in various records are given below, arranged according to the type of punishment. These are followed by examples of different types of crime and who carried them out.
In the early examples given the original wording, spellings and peculiarities of the phasing are retained.
WHIPPING
1299
Cecily, Lady of Staunton sentenced by the Archbishop of York in July 1299 to receive a whipping on six days about the church of Staunton and a like number in the market places of Nottingham and Bingham, for adultery with Wm de Breadon who made the messenger eat the summons he brought and was excommunicated.
| | |
| --- | --- |
| Cecily, Lady of Staunton whipped for her morals | The hapless messenger made to eat the message |
1725
On 5th April at Nottingham John Kettleborough to be whipped at Bingham Market Cross. John Boulton gave evidence that he had been working in Langar Park at the brick kiln there for the Right Hon the Lord Viscount Howe and had used a spade belonging that noble Lord but on coming to receive his wages at the end of his time the spade was missing and Mr John Doubleday, steward to that noble Lord stopt half a crown with him for the spade being mist. A warrant having been issued the spade was found in the possession of John Kettleborough of Great Cropwell, who told the court that he bought it after Bingham Fair Day on the 28 October from John Allen who was working at that time as servitor to a mason for the Lord Viscount Howe. Kettleborough was found guilty to the value of 10 pence and was ordered to be whipped at the Market Cross in Bingham by the gaoler.
1774
On 11th April Anthony Yates was brought before the court from the House of Correction to which he had been committed by warrant of Sir Gervase Clifton Bart, and Thomas Charlton Esquire. The Court ordered him to be committed as a vagrant to the County Gaol. The House of Correction was full of disorderly peoples and too small to contain them. Yates escaped from gaol but was retaken and on 12th July 1775 was sentenced to 6 months in the House of Correction and ordered to be whipped three times at Bingham, Southwell and Newark on the market days.
DUCKING
1620

Anne Bingham was ducked as a scold.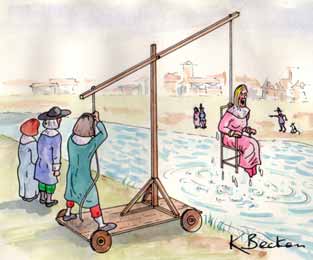 The ducking of Ann Bingham, a scold
PILLORY
1633
Gabriel Eaton of Trowell had to stand in the pillory in Bingham Market Place, his punishment for perjury. The pillory as a punishment was abolished in England in 1837 (perhaps as the power of the popular press to degrade people developed!).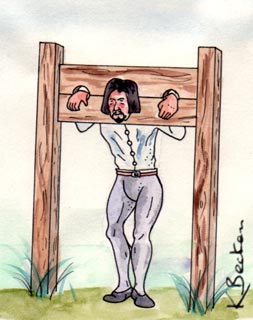 FINES
1795
On 13th April at Nottingham, the conviction of Edward Pheasant of Bingham, Grocer, for illegally having a gun and a pointer with intent to kill game was recorded. Pheasant was fined 5 pounds.
1870
A pupil of Edward Clough at East Bridgford was fined £1 for assaulting his teacher and 10s.6d costs.
1870
George Wigg was charged with poaching and trespassing by the Earl of Chesterfield's head gamekeeper and was fined 50 shillings and £1.

The poacher about to be caught
1875
Man found guilty of rape at Flintham – fined £10. Another rape incurred 12 months hard labour.
1797
On 9 January the conviction of Thomas Dring of Southwell by the Rev. John Walter was recorded, the said Dring having illegally carried to Bingham to sell and expose to sale certain Millinery Goods Wares of Merchandise without licence. The conviction was upon the information of William Petty and the fine was accordingly distributable as to one half to Petty the informer and the other half to the King. The fine was £10 having been reduced to that amount in 1789. [On 13 January 1796 William Petty of Bingham had been appointed at the Quarter Session in Newark to be Examiner of Weights and Measures for that part of Nottingham Division north of the Trent. He clearly kept his eye open south of the Trent.]
HARD LABOUR
1840
A man who stole 2 cwt of coal from Mr. Hall JP, of Whatton Manor was sentenced to one month's hard labour at Southwell House of Correction
1848
Two Bingham women received 21 days hard labour for breaking workhouse windows.
1848
A Bingham man who stole Union clothing and left without permission was sentenced to 20 days hard labour.
1858
A Bingham spinster was convicted of stealing 10 lbs of bread, 1 oz. Tea, ½ lb of butter, ½ doz. of candles, ½ oz. of tobacco and a 1 lb of sugar. She was sentenced to 4 months hard labour with one week in solitary confinement (compare this with 1840 theft of 2 cwt. of coal above).
IMPRISONMENT
1626
17th April Richard Allen of Bingham was sent to prison for opprobrious words against Lawrence Gunthorpe (gentleman) Chief Constable.
1848
A light sentence (over 6 month's imprisonment) was imposed on 3 men who brutally attacked a gamekeeper at Shelford.
1870
An Irish tramp was sentenced to 7 days in prison after begging at Tithby.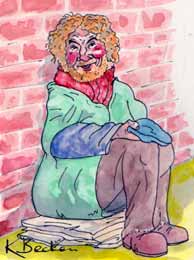 An Irish tramp caught begging in Tithby
1877
A schoolboy was imprisoned for 7 days for breaking windows. He was not able to cope with schoolwork and the possibility of an industrial school place was discussed (a school where neglected and delinquent children are taught mechanical arts).
PENAL SERVITUDE
1889
Bingham judge His Honour Judge Samuel B. Bristowe was shot and injured by Edward Arnemann, a disappointed litigant. He was convicted at Nottingham Assizes and sentenced to 20 years penal servitude. Arnemann hanged himself in his cell.
TRANSPORTATION
1769
On 9th January 1769 at Nottingham William Hill of Bingham, Labourer, was sentenced to be transported for seven years to his Majesty's Colonies or plantations in America for stealing a quantity of "oakwood workt up into coopery wares and value 10 pence the property of Mary Lee widow".
1820
John Marsden, aged 17, tried for stealing a money drawer containing 30s (£1.50) in silver and 10s in copper from a baker's shop in Bingham. Sentence was 7 years transportation. His father had been transported to Van Diemen's Land for life in 1812. John Marsden Jnr sailed on the Shipley in May 1820 for a 113-day passage. His eldest sister had already travelled to Van Diemen's Land to join her father. She wrote to the Colonial Secretary for John to go to Hobart where their father was farming. Younger brother Thomas joined them later. Their father was killed by Aboriginals in 1827, aged 66.
DEATH PENALTY
1784
In March at Nottingham Assizes Thomas Henfrey and William Ryder were sentenced to death by Mr Baron Eyre for highway robbery. Thomas Henfrey came from Stathern, and Wm Ryder from Stonesley near Waltham. On the 23rd of the previous January, about six in the morning, they had met Mr Richard Caunt, of Plungar, as he was coming to Nottingham Fair, on Peascroft Hill between Bingham and Ratcliffe, and with horrid imprecations demanded his money. He gave them five guineas in gold, three shillings and sixpence in silver and three pence in copper. They were apprehended the following evening at a public house in Stathern, and being identified by Mr Caunt, while in custody at Leicester, were removed to Nottingham.
They were placed in a cart drawn up to the prison door at eleven o'clock, and as they emerged from the gloom of their cell into the broad light of the sun that had risen upon them for the last time, a feeling of awe, we are told, shot through the minds of the spectators. The men were attired in their shrouds and stalked up to the cart with undismayed step. On their friends accosting them, they took several by the hand, and just before the vehicle drew on, Henfrey said with an audible voice, "Never mind lads." On the road they frequently conversed with each other, and appeared more concerned for the friends they were leaving behind than themselves. When at the gallows and at the point of being turned off, they kicked off their shoes, doubtless under the idea that they would not verify the old proverb, "rogues generally die with their shoes on." Henfrey with a smile asked Ryder if he would make a spring, and on being in the affirmative, he immediately jumped out of the cart, saying, "then come along", and expired almost instantly, but Ryder had not courage to follow his example, and waited till the cart was drawn from under him, he lingered some minutes in great agony. When Henfrey's fall was suddenly stopped by the rope his neck gave a very loud crack, the noise of which was heard by many of the spectators; and the great weight of his body stretched the rope in such a surprising manner that his feet nearly touched the ground.
1818
In March Sir William Garrow Knt. presided at the Crown Assize Court and an unusual number of prisoners were condemned to death. [including] William Cooper aged 18 years and James Forrest aged 19 years, for "burglariously" entering the dwelling house of William Stubbs, at Bingham. [These two were subsequently reprieved.]
1853
Mary Ann Parr, aged 25, of Bingham was sentenced to be hanged for the murder of her 10-day old illegitimate baby born in Bingham Union Workhouse, where she had lived for seven years. She was of limited intellect and almost blind. Her sentence was reduced to transportation for life because of her mental condition. In the County Gaol she became "exceedingly violent in her condition and language." She was placed in a straightjacket for her own protection and later sent to Broadmoor Criminal Lunatic Asylum.
PARDONS
1381
On 20th May. Robert FitzMay had been outlawed for taking away from Bingham eight ells of cloth, the property of Robert de Retford. Having rendered good service under the Duke of Lancaster in France he was duly pardoned.
1410
On 22nd April William Tasker of Bingham, who had been indicted for the murder of John Hawedon, a shepherd of Bingham and under the alias of William Cooke for murdering, with others, by night, John Shepherd of Bingham, was pardoned.
CRIMES AND COMPLAINTS REPORTED, BUT NO CONVICTION RECORDED
1326
"Commission was appointed to hear and determine the plaint of Ralph Basset of Drayton that, whereas he being in Gasconey on King's business and under his protection, some persons broke into his parks, entered his free warrens and chases, hunted therein, fished his slews and carried away fish, deer, hares, rabbits, pheasants etc and assaulted his servants, in various counties including Nottinghamshire at Bridgford, Colston Basset, Byngham and Hickling." (Patent Rolls 1326 291-2)
1346
At Nottingham Roger de Ashover of Byngham refused demand of Wm de Byngham for surrender of 8a land and 3a meadow at Byngham, alleging that said Wm was a bastard. Case being ecclesiastical, was referred to Bishop of Lincoln who found by inquisition that William was not illegitimate, but legitimate and verdict was given accordingly against Roger. (Patent Rolls 1345 554).
1347
On 20th December William Deyncourt complained that Ralph de Sprotburgh, John Abbot , William Yonge, Robert de Whatton, all of Bingham, John Taillour of Cropwell, "warner" R(ichar)d Moryn of Car Colston and many others, named, drove away seven horses of his from Bingham worth £60, carried away his goods and assaulted his servants so that he lost their services for a great time.
1625
On 22nd October, Robert Harrison of Bingham admitted at the Court of the Archdeacon, "that he was in ye towne streete at Sermon tyme after the setting up of the Cock but gave no consent thereto, there being present divers who this partie cannot name;" Robert Somner, of the same parish, admitted that he was there but gave no consent to the setting up of the Cock. [Is this a reference to cock fighting?]
1619
State Council Order Justices of Assize for Notts to examine and proceed in the cause of Denis Mannings of Bingham accused of seditious words against the King and State. (State Papers 1619-1623).
1697
At the April Quarter Sessions, Samuel White, of Bingham, was charged with selling goods in the market by false weight.
Unknown date
An item published in the Weekly Guardian of 24th September 1910 concerned an undated cutting found pasted in an old book. It read:
"A short time ago, a person with a bag of salt on an ass, under the plea of his animal being tired, and it being late at night, begged permission to leave the salt at a grocer and baker's at Bingham. This being perceived by a splenetic neighbour, he gave information to the Excise officer, who, as the salt was not accompanied with a permit, seized it. The case came on a few days ago, before the Magistrate, at the instance of the Board of Excise and the tradesman, who very foolishly suffered judgement to go by default, was fined one hundred guineas! As it was a very general opinion amongst the inhabitants of Bingham that the baker had not any intention of defrauding anyone, many hundreds of them, of both sexes, assembled on Saturday evening last, and placed an effigy of the informer, together with a bag of salt, on an ass, paraded him throughout the town and after a severe flagellation, was hanged and burnt in the Market Place, amidst the most uproarious eclat."
REWARD FOR SECURING A CONVICTION
1700
On 8th April at Nottingham, John Musson of Bingham, ironmonger, produced a certificate whereby he was excused from serving any parish office in Bingham, having apprehended and secured the conviction of Anthony Gill of Maney in ye Isle of Eeley in ye Court of Canterbury for having stolen John Musson's black mare.
NOTABLE CRIMES BY BINGHAM'S PROFESSIONAL PEOPLE
1710
Dr. Thomas Patefield, surgeon, set the town of Bingham on fire in three places doing little damage in 1710. Deemed to be mentally deranged, the unfortunate man was ordered to be confined at Bingham where a strong building of two rooms was specially erected for him in the Market Place to house him until he died in 1739. The building was then pulled down. Adelaide Wortley (History of Bingham) records "He was tried at Nottingham Assizes for the offence, and on being asked in the usual manner "Guilty or not guilty", he looked round the Court and in an audible voice repeated the 1st verse of the 58th psalm: "are your minds set up righteousness, o ye congregation, and do ye judge the thing that is right, o ye sons of men?" The judge after a few witnesses had been questioned about his state of mind, remanded him back to prison until a proper place of security could be provided for him at home."
1715
The lunacy of Reverend Henry Stanhope (a younger son of the Lord of the Manor, later the Earls of Chesterfield.
At Mansfield Woodhouse on 23rd January 1715 Mr Samuel Bradshaw, Clerk, Curate to Henry Stanhope, Clerk, Rector of Bingham, produced a certificate of incapacity of Mr Stanhope to take oaths as follows;
"22 January 1715 these may certify to whom it may concern that Mr. Henry Stanhope Rector of Bingham is incapacitated for takeing the oaths to the government to be taken on or before the twenty third of this instant January by being a lunatick and that he has been so for six months last past witness our hands,
WM Shepperson John White
John Ragsdale Bryan Bass
John Hutchinson George Parley"
1723
On 30th November at Nottingham the case of Henry Stanhope again came before the court on account of his continued mental incapacity as follows;
"Memdum. That it appears to this court upon the oaths of John Needham. William Brookes, and Edward Baines all parishioners of Bingham and persons of good credit and repute that the Rev. Mr Henry Stanhope Rector of Bingham aforesaid is incapacitated to take oaths to the government appointed be taken by a late Act of Parliament for he the said Mr. Stanhope is non compos mentis and has so been for some years past."
1771
On 14 January Stephen Foster of Bingham, Yeoman, was indicted for withholding from the inhabitants of Bingham the "Balance of the Militia money and refusing to pay the same". It appears that Foster was the Parish Constable and had been entrusted with the collection of 2d levy for Militia purposes. The amount raised by such a levy was £17 12s. 8d, whereas the sum required was only £14 19s. 8d and Foster failed to pay over the balance of £2 13s. 0d. The Grand Jury found a true bill against Foster who was bound over to appear at the next Sessions, but he died in the meantime. The case was dismissed.
1874
From January to March 1874 Mr S. Woodward was master of Bingham Church School. Subsequently he was found to be Mr F.W. S. Cowlishaw, who had been dismissed from a school in Burton -on-Trent for ill-conduct in1872. Mr S. Woodward was the master at that school, but had died in 1871. Mr Cowlishaw had attempted a similar course of deceit under the assumed name of Radford at a school in Newcastle. His trial on a charge of obtaining money under false pretences at the Assizes at Nottingham concluded on 18th July. Proof of his deception was presented at the court. The jury, after consideration, said, "We find he has done wrong, but we recommend him to mercy." This verdict was received in the court with some laughter. When asked by the judge if he was guilty or not guilty they replied "Not guilty, but we recommend him to mercy." After the judge explained that a recommendation to mercy was an unnecessary appendage to an acquittal, the jury retired again and found Mr Cowlishaw not guilty. The newspapers reported this as a case of "Not guilty, but don't do it again".
INVOLVEMENT IN LAW BY THE CHURCH
1624
General obligation was placed upon the parish to inform against Popish recusants (persons who refused to attend the Church of England when it was legally compulsory). Steven Dore, a Bingham blacksmith (1624), was one such and so was William Cooke.
1655
William Cooke and his wife and Marie Parr were fined for being absent from church for one month.
1666
A mercer of Bingham was indicted for disfiguring the Book of Common Prayer
1776
Four villains broke into Bingham church on the night of 1st December.
EMPLOYMENT OFFENCES
1638
7th January Richard Ward of Bingham sued Bryan Wheatley of Bingham for not paying his wages. Wheatley said Ward absented himself at the time of the plague.
1639
July 8th a husbandman of Bingham was indicted for permitting Joan Thoresby, his apprentice of the age of 12 years, to escape from him and "he doth not know where she is". He was committed to the Assizes.
1655
May 2nd a difference between William Cooke of Bingham (mercer) and his apprentice David Wix was referred by consent to Newark. The following July, David Wix was set at liberty from his apprenticeship from William Cooke on complaint that Cooke "had much beaten him and refuseth to teach him his trade but setteth him to mind sheep and other such like employment and refuseth to find him clothes". On 8th January 1654, William Cooke had been charged with striking his apprentice with a fauchion (a short broad sword bent like a sickle).
1677
July 9th "It was ordered that John Ragsdale doe take to be his apprentice Thomas Machin for seven years and that ye town of Bingham doe provide him with too suits of apparel and that if ye boy become blind he be discharged of his apprenticeship".
October 3rd John Ragsdale was acquitted of keeping his apprentice by reason of a rume in his eye and other infirmities.
1718
21st April at Nottingham Elizabeth Ludlow a Baker and John Robinson a labourer both of Bingham were exercising "the art mystery or occupation of butchers" without having served an apprenticeship of seven years, but were discharged by proclamation. The following letter is with the records:
"To Mr Clay Clerk of the Peace,
This is to desire you to be kind to widow Ludlow whome an editement wass found against last sessions for she doth promis to do so no more and for ye kindness you show to her I shall take it as done to myself.
From your servant to command
Jno Beakley"
1758
A Flintham wheelwright, William Haughton was tried for discharging his hired servant Ann Barker out his service before the end of her term and refusing to pay her wages due to the time of her discharge.
UNLAWFUL ASSEMBLY
1637
On 2nd October four men of Bingham were indicted for unlawfully assembling themselves for football!
1769
On 2nd October at Nottingham John Smith of Bingham, Yeoman, and John Walters of the same place, clerk, with others unknown were indicted for riotous assembly at Bingham and for severally assaulting James Wickham at a brick kiln there. (see also George Baxter) On 8 January 1770 the case was removed by certiorari into the Court of the Kings Bench.
INVOLVEMENT OF RECTOR IN LAW
1709
25th October The tale of the Rector of Elton:
John Trinbury, in justification of his assault upon the Rector of Elton complained that at the funeral of Ellen Ragsdale 3 or 4 years earlier, the said Rector was so drunk that he could not say the usual prayers for the dead but fell asleep at the reading desk and had to be disturbed by the Parish Clerk "and then he went to the grave with the corpse and bid them put her in saying God help thee poor Nell" without any other prayers or ceremony and afterwards was let home by the Clerk. On the following day the Rector answered in a similar sworn statement that he was abused by the said John Trinbury in a very scandalous manner being called a knave, a rascal and a "paultry scrub" and having his clothes pulled off his back by the said John and his wife and daughter."
The Rector had already been presented in Dec. 1708 on a charge of blasphemy for having given utterance to the following cogent question: "was God almighty a drone? If not what was he doing before he made the earth?"

1784
On the 12th January John Walter, Rector of Bingham complained to Henry Sedley and three other Justices of the behaviour towards him of Elizabeth Bird of Bingham, single woman, stating that she followed him in the street, grinned in his face and otherwise much abused him and he was afraid she would burn his house or do him corporal hurt by killing or beating him and he prayed sureties of the peace against her. The woman was committed to the House of Correction until she found sufficient sureties for the peace. She was brought up by the Master of the House of Correction at the following Easter sessions when she was recommitted pending finding such sureties. At the sessions held on the 12th July 1784 she was discharged from custody, she and her father Richard Bird of Fiskerton, farmer, "having entered into recognizances in 100 pounds each for her good behaviour for one year from the 1st May the last and not to go into the parish of Bingham without the consent in writing of the Revd. John Walter."
1794
In 1794 the Revd. John Walter Justice of the Peace of Bingham presented George Baxter Shopkeeper, John Adcock Servantman, George Granger Framework-knitter and John Horsepool Butcher, all of Bingham, "for in the King's Highway commonly called the Market Place Bingham they unlawfully did play and throw certain iron coits whereby the Highway was obstructed." The presentment was quashed.

1795
On 12th January at Nottingham, Thomas Hart, Bingham, Parish Clerk was convicted before Rev. John Walter, Justice of the Peace, of swearing six profane oaths. The conviction was returned into court and ordered to be filed, but the fine is not stated. (See also George Baxter)
Note – The fine traditionally was one shilling a word! Perhaps the origin of the "swear box".
ORDERS ON BINGHAM PARISH
1636
1st August Bingham, Broxtowe and Rushcliffe were ordered to pay 5 marks for Radford now suffering from plague. 5 x £2/3 = £3.3s.3d.
1635 – 36
An acquittance of £11 was collected in the wapentakes of Bingham, Broxtowe and Rushcliffe towards the repair of St. Paul's cathedral.
1678
An indictment was made against the parish for not repairing the roads – The Kingsway, called Fosse from Newark to Nottingham; part of a road from Grandby to Bingham, called Whiplings.
1696
Similarly, from Whatton in Saxondale Lane End and Thurrow Bridge Lane.
1770
On 14th January Thomas Chettle, Surveyor of Highways for Bingham was indicted for failing to pass his accounts and for misapplying Highway money collected by him. On 7th October next he was ordered to meet the Justices at the Fox and Crown at Bingham but the case was not settled then and in January following it was referred to Henry Sherbrooke Esquire and the Rev.R.Kirby to settle. The following April these two Justices reported they had not settled it and the Court fined Chettle 6d and dismissed him.