The Squires Family
The Squires crop up in relation to two properties in Bingham, Ebenezer House on the Banks and 17 Long Acre. The family can be traced to George Squires, a letter carrier in Cropwell Bishop in 1871. The key parts of the family tree are as follows: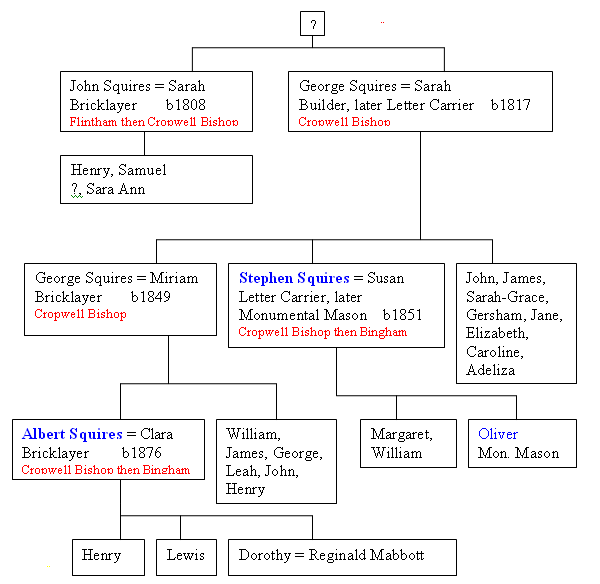 The detailed relevant census entries are:
1841 *
Cropwell Bishop
George Squires

20

bricklayer
Sarah
wife

16

John Squires

30

bricklayer
Sarah
wife

30

bonnet maker
Henry
son

7

Emma
daughter

4

Mary Horton
servant

24

* 1841 census rounded ages of adults down to nearest 0 or 5
1851
Cropwell Bishop
George Squires

34

builder
Sarah
wife

28

John
son

9

scholar
James
son

7

scholar
George
son

2

John Squires

43

bricklayer with two journeymen and app
Sarah 43
Henry
son

17

bricklayer's apprentice
Unreadable
daughter

14

scholar
Sarah Ann
daughter

5

Samuel
son

2

Rebecca (unreadable)
niece

22

bonnet maker
1861
Cropwell Bishop
George Squires

44

builder
Sarah
wife

38

James
son

17

builder
George
son

12

Steven
son

10

Sarah Grace
daughter

8

Gershon
son

3

Jane Ann
daughter

1

The Village, Cropwell Bishop
John Squires

52

builder (born Flintham)
Sarah
wife

53

(born Cropwell Bishop)
Henry
son

27

builder
Sarah Ann
daughter

15

Samuel
son

12

scholar
Willam Crampton

18

apprentice
Charlotte Morley

16

visitor
1871
Mill Hill Cottages, Cropwell Bishop
George Squires

54

letter carrier
Sarah
wife

48

George
son

22

bricklayer
Stephen
son

20

letter carrier
Gersham
son

13

Jane
daughter

11

Elizabeth
daughter

9

Caroline
daughter

6

Adeliza
daughter

4

1881
Squires Houses, Cropwell Bishop
John Squires

73

Bricklayer/local Methodist preacher (born Flintham)
Sarah
wife

74

Ellen Sponge
niece

28

housekeeper
Mill Hill, Cropwell Bishop
Sarah
widow

58

Freeholder
Caroline
daughter

17

Mill Hill, Cropwell Bishop
Stephen Squires

30

Gravestone engraver
Susan
wife

32

(born Bingham)
Margaret
daughter

4

William
son

2

Oliver
son

8 months

Cooperative Store, Cropwell Bishop
George Squires

32

Baker and Grocer
Miriam
wife

32

William
son

9

James
son

7

Albert
son

5

George
son

4

1891
High End Farm, Cropwell Bishop
George Squires

42

Bricklayer
Miriam
wife

42

Albert
son

15

Bricklayer's assistant
Leah
daughter

9

John
son

7

Henry
son

3

High End Farm, Cropwell Bishop
John Squires

43

Agricultural Labourer
Emma
wife

42

Ann
daughter

3

Lois
daughter

1

Long Acre, Bingham
Stephen Squires

40

Monumental Mason
Susannah
wife

42

Margaret
daughter

14

(born Cropwell Bishop)
Oliver
son

10

(born Cropwell Bishop)
Steven
son

6

check where born
George
son

4

Kate
daughter

2

1901
Mill Hill, Cropwell Bishop
George Squires

52

Builder
Miriam
wife

52

John
son

17

bricklayer's apprentice
Henry
son

13

Mill Hill, Cropwell Bishop
Albert Squires

25

Bricklayer
Clara
wife

25

Lewis
son

1

1901
Long Acre, Bingham

Stephen Squires


50

Monumental Mason
Susannah

wife

52

Margaret

daughter

24

Oliver

son

20

Monumental Mason
Stephen

son

16

Pupil Teacher
George

son

14

Kate
daughter

12
Family History
The examination of census and other records adds texture to the bare ownership transfers recorded in deeds. Here we have an example of a trade, building, being passed from fathers to sons over at least three generations with brothers and cousins taking up the trade. Stephen initially followed his father's second occupation of letter carrying and then somehow became a monumental mason, with his son Oliver following him onto that trade. Albert was clearly following family tradition!
There are many headstones carved by Stephen in Cropwell Bishop, where he first carried out his trade, and other local church yards, including one partly carved by him and partly by George. Perhaps one of the Georges carved occasionally. Sometimes only the mason's name appears at the foot of a stone; sometimes the village in which they worked is carved too. Many Squires' headstones occur of course in Bingham churchyard and in the town cemetery. The earliest we have seen so far to mention Bingham is 1883; the deeds of 15 Long Acre suggest this was probably the date he moved to Long Acre from Cropwell Bishop. The extensive range of outbuildings was probably built specifically for Stephen's trade – the deeds to number15 have a plan show the land was already leased to Squires in 1885. A watchword of Stephen's was 'catch them with a tear in the eye and you'll get the business' – he made a habit of attending funerals in pursuit of his trade!
Examples of the Squires' work can be seen in a number of local churchyards and in Bingham cemetery. The old church at Colston Bassett has a large group, Granby, Scarrington, Hawksworth …and even Epperston (across the Trent).. also have a few examples.
Directories for Bingham after 1901 show Oliver to have followed in his father's trade, which he operated from 17 Long Acre until the mid 1950s. The 1911 electoral rolls show him as a boarder with his father, and later he seems to have gone to live with Albert and Clara at Ebenezer House (1921). Then he married Annie and lived elsewhere on the Banks. Kate stayed at home, a lifelong spinster, and taught music from 17 Long Acre until the 1960s. Her brothers and sister were also accomplished musicians and often played together. There is a record of the family performing a concert in aid of the chapel at Cropwell Bishop in the early 1900s.
Son Stephen was a pupil teacher in 1901 and went on to be headmaster of a school in West Bridgford. George was killed in action in the First World War. Margaret married John Walker, the saddler, and went to live at 6 Porchester Villas.
There is a strong chance George (b 1817) and John (b1808) were brothers. George's eldest son was called John, which might have been after his brother or possibly his father (after whom his elder brother could well have been called). Interestingly John and his Sarah had only four children.
Size of families in the nineteenth century is often of interest. George and Sarah had 10 children, all of whom seem to have survived (the census loses track of John between 1851 and 1861, by which year he would have been 19, so may have left home or he might have died in his teens). Sarah bore children from age 21 to 44. She may have had even more, as there are two gaps of five years between children where mostly the gap between the other children is only two years.
The second George had seven children with Miriam; she bore children between the ages of 21 and 39. If there were more they did not survive a census interval of ten years and would therefore not be recorded.
Family Christian names are repeated and skip between branches of the family. Commonest are John, George and Henry.